This entry was posted in
Featured
,
Trending
and tagged
Cigars
,
Outdoor
,
Party Pics
,
Products
,
Shopping
on
by Chuck Gregory
.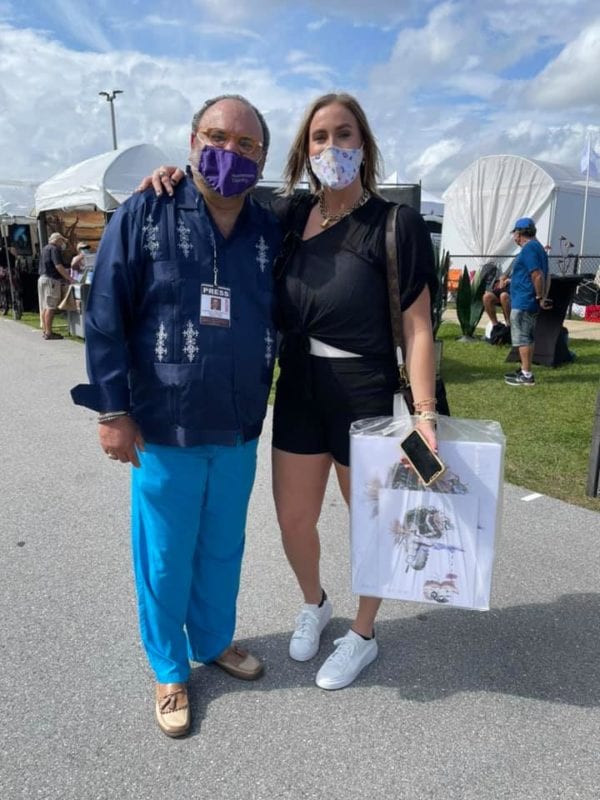 Our founder Lakhinder JS Vohra had a great time with VIP access to this annual arts show. Living in Florida opens up amazing possibilities for attending events!
For more information click here
This entry was posted in
Trending
and tagged
Art
,
Festival
,
Florida
,
Food
,
Outdoor
,
Party Pics
on
by Chuck Gregory
.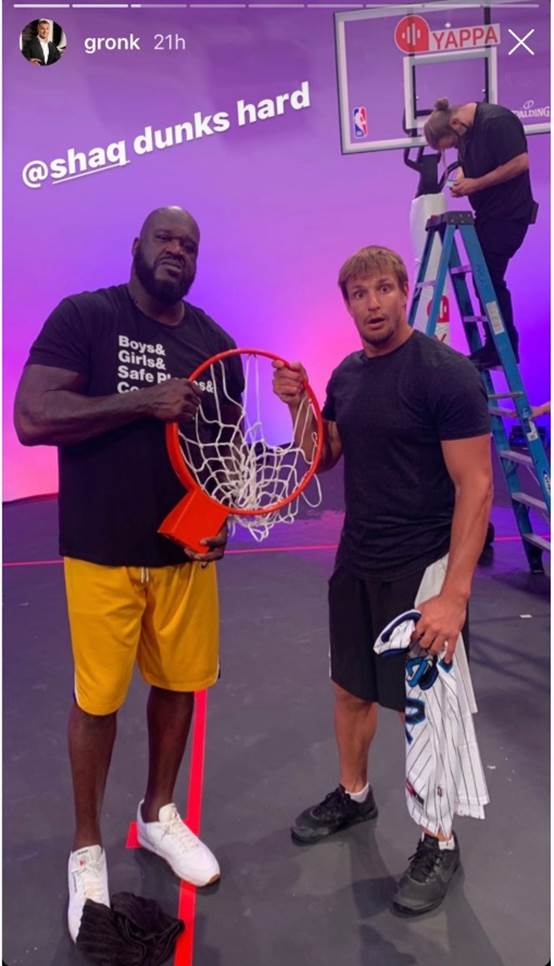 In case you missed it this weekend, Shaq and Gronk hosted a live streamed digital event on Saturday. What made this digital event extra special is that fans were able to have LIVE conversations with each other through Yappa, an audio and video commenting tool. During the event, Shaq and Gronk played a livestreamed game of HORSE. Fans were able to leave yaps about which shot they wanted Shaq and Gronk to take– and Shaq actually broke the rim! Snoop Dogg, Steve Aoki and Da Baby were among those to live yap during the event. You can see all of the activity on the event's website by the Comments section.
Yappa was created as an antidote to the dangerously anonymous text-based commenting in social media. Because Yappa has a robust backend to flag profanity and hate speech, Yappa is quickly becoming the new, responsible and fun way for celebrities to communicate on websites such as IGN, iheartmedia, AMI and so much more!
For more information click here
This entry was posted in
Trending
and tagged
Party Pics
,
Social Media
on
by Chuck Gregory
.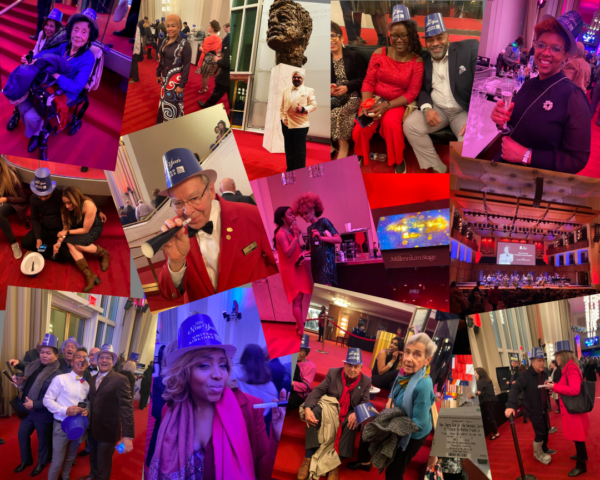 There are hundreds of options for New Year's Eve – from Embassy-themed soirées, black-tie hotel ballrooms balls, sit-down pre-fixe all-you-can-hog, to plain and simple microwaveable celebrations in your PJs at home.
But when it comes to picking the best venue, ambience, budget, parking, dose of culture, and a true red carpet, nobody could beat the evening hosted by the Kennedy Center.
Our evening, generously hosted by Sam the GM of the rooftop restaurant and Rachael Stambaugh of the Kennedy Center, started with a richly-paired 3 course menu dinner followed by an amazing tribute to Aretha Franklin, a roarous sell-out crowd in tow.
Following the glowing performance, the evening spilled into the grand foyer where an exclusive collection of local gliterati filed in to live bands performing past three balloon drop making dressing to the hilt yet another memorable exercise reminding everyone that over-extended, over-priced libations elsewhere was not the only way to ring in a new century in a posh, affordable and refined way and that we were in the right place at the right time. The complimentary professional photo booths set up as guests were departing was the perfect goodie bag gift one could ever receive and cherish.
For more information click here
This entry was posted in
Trending
and tagged
Networking
,
New Years Eve
,
Party Pics
,
Washington
on
by Chuck Gregory
.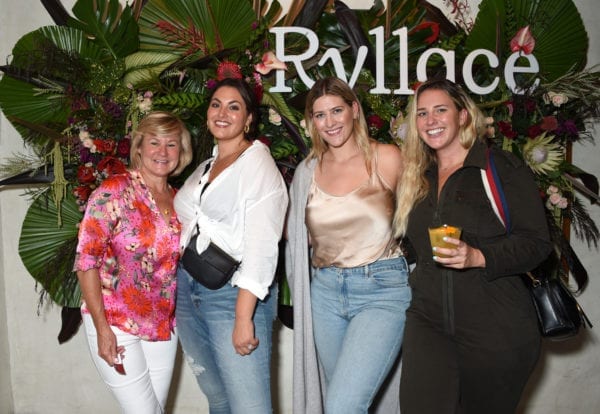 Hayley Hasselhoff, Robyn Lawley and Britney Young Celebrate the Launch of Ryllace
Quality and style shouldn't stop at a size 14.
Celebrities, Influencers and tastemakers celebrated the launch of Ryllace, a new premium plus-size fashion brand at LA hotspot, Élephante, last night in Santa Monica. Decked out in the brand, Actress/Model Hayley Hasselhoff, GLOW's Britney Young and Model Robyn Lawley proved that style shouldn't stop at a size 14.
With the theme of "look how you feel," Ryllace aims to serve the large percentage of the American population who wear a size 14 or above that are underserved and demanding more in the current plus-size fashion offerings. Inspired by the amaryllis flower which is known for its beauty, strength, determination, and resilience-qualities Ryllace aims to bring out in every woman. The brand is on a mission to bring smart, premium, casual style to every plus size woman's closet. The full collection includes outerwear, shirts, blouses, pants, skirts, dresses, sweaters, sleepwear and accessories, ranging from size 14-24. Prices range from $48-$368 is available exclusively on www.ryllace.com
This entry was posted in
Trending
and tagged
Fashion
,
Party Pics
on
by Chuck Gregory
.
Design Industries Foundation Fighting AIDS (DIFFA)'s annual summer fundraiser, Picnic by Design, returned this September! Held at Midtown Loft & Terrace, the eighth annual soirée invited 20 top tier designers and brands to create global-themed baskets of goodies for auction. Every year, Picnic by Design brings together over 200 industry guests for gourmet picnic fare and custom designer baskets for auction. Event proceeds support DIFFA's mission to grant funds to HIV/AIDS service organizations across the country.
This entry was posted in
Trending
and tagged
Benefit
,
New York
,
Party Pics
on
by Chuck Gregory
.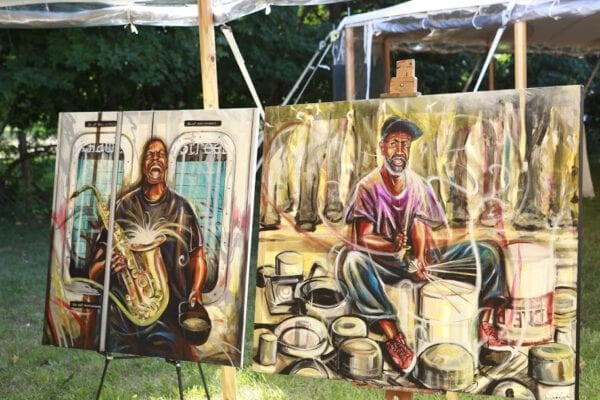 The UNCF Hamptons Summer Benefit honoring Sharlee Jeter and R. Donahue Peebles was a great success.
The generous support of a large assortment of guests will enable UNCF to provide more young people of color with a successful pathway to obtain a life-changing college education.
"We're pleased to share that we raised more than $350,000 to continue our contribution to help support historically black colleges and universities and deserving scholars in the greater New York area to further their education and fulfill their career aspirations."
This entry was posted in
Parties
,
Trending
and tagged
Benefit
,
Hamptons
,
New York
,
Outdoor
,
Party Pics
on
by Chuck Gregory
.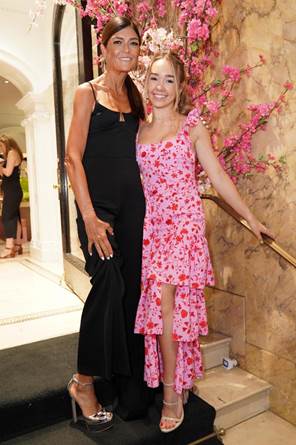 Ruthie Davis celebrated the launch of her new Shop-in-Shop at Christian Siriano's boutique, The Curated, on July 24th. Ruthie was joined by The Americans actress, Holly Taylor as she debuted her Pre-Fall 2019 collection and her exclusive collaboration with Disney's Aladdin. Holly completed her floral summer look with the Teigen Heels in Moonlight ($395) while Ruthie stunned in the Tiara Heels in Silver Mirror ($445, www.ruthiedavis.com).
This entry was posted in
Trending
and tagged
Fashion
,
New York
,
Party Pics
,
Products
on
by Chuck Gregory
.
UJA-Federation of New York's Fashion Leadership Awards honored Tanya Golesic, president of Jimmy Choo; Jill Granoff, CEO of Eurazeo Brands; Karen Murray, CEO of Sequential Brands Group; and Claire Olshan, founder of Fivestory & DADA Daily. Cristina Cuomo, founder and editor of Purist, served as M.C. The event, which took place on June 19, 2019, at Tribeca 360° in New York City, raised more than $750,000 for UJA-Federation's annual campaign to sustain its network of hundreds of nonprofits that touch the lives of millions of people each year.
photos by Michael Priest Photography
This entry was posted in
Trending
and tagged
Awards
,
New York
,
Party Pics
on
by Chuck Gregory
.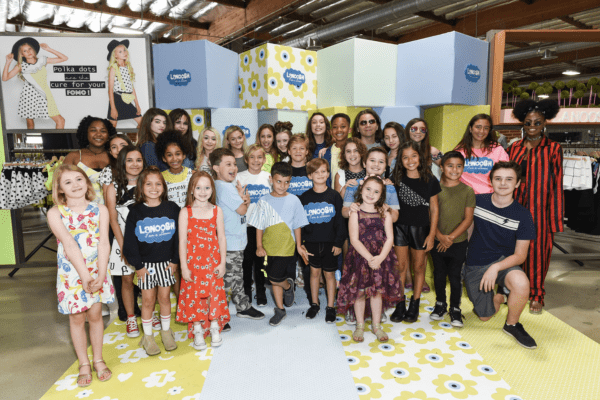 LOS ANGELES – On Thursday, Disney starlet Ava Kolker bopped to the beat of her brand new single "The Good Ones" during the LANOOSH Grand Opening celebration. Clothed in a bright neon LANOOSH dress, the Disney star sang to an excited crowd of young talent and parents – most of whom were also wearing their favorite LANOOSH pieces. The magical event was to celebrate the fashionable, ethically-made childrenswear brand as they debuted their newly redesigned HQ and storefront for the first time. Up and coming singer/songwriter Denim Nicole capped off the event with a surprise performance of her new single "Lemonade" ending the day on a sweet note.
NOTABLE ATTENDEES: Ava Kolker (Disney's Sydney to the Max); Sheldon Bailey (Nickelodeon's Game Shakers; Showtime's Shameless); Adrien Dev (HBO's Westworld); Alyssa de Boiblanc (ABC's Modern Family); Jazlynn Belle (CW's Jane the Virgin); Denim Nicole (singer/songwriter "Lemonade")
WHAT: Wearing the Neon Child Swag Dress (neon yellow) $63.00 – available at www.lanoosh.com
This entry was posted in
Trending
and tagged
Party Pics
on
by Chuck Gregory
.
World-renowned hair stylist Angelo David, owner of the elite salon Angelo David Salon in New York City, celebrated his Resident Magazine June 2019 cover and accompanied article, which delved into Angelo's background and inspiration which lead him to become one of New York City's leading authorities on fine and thinning hair. Angelo is also the creator of the lifestyle supplement Hair Detox, which supports healthy hair growth from within, and the Flex Brush for safe hair detangling, which promotes hair health and growth.
The cover party, which took place at the modern and airy 2,500 square feet salon, featured a cocktail reception and hors d'oeuvres by Benjamin Steakhouse and luxury chocolates by MarieBelle Chocolates. Guests were invited to view the salons private VIP Hair Suites, hair extension styling bar, beauty concierge department, beauty lounge and Couture Hair boutique.
Notable attendees included: Angelo David Pisacreta, Luann de Lesseps, Aviva Drescher, Harrison Dubin, Robyn Pack, Lisa Difeo, Alba Pisacreta, Eugene Pisacreta, Carmine Pisacreta, Regina Kravitz, Leesa Rowland, Carmen D'Alessio, William T. Sullivan, Emily Smith, Elizabeth Wagmeister and Publisher Christopher Pape.
(Photos courtesy of Patrick McMullan)
Through 25 years of experience and hands-on research, Angelo David has developed a variety of cutting-edge products and techniques that allow his clients to have and maintain the healthy hair they want at every stage of life. A second-generation thinning-hair specialist, he learned how to work with hair pieces from his father, renowned wig maker Carmine Pisacreta. In 2000, he introduced Angelo David Couture Hair Extensions and Additions™, the world's finest customized hair system.
Most recently, Angelo created Hair Detox, a lifestyle supplement that addresses the specific needs of men and women who are experiencing thinning hair and early signs of hair loss. It is based on the latest science and research on the nutrients and herbs that address various contributors to thinning hair and hair loss, including stress, hormonal imbalances and nutritional deficiencies. Hair Detox gently detoxifies the body, helps minimize nutritional deficiencies, addresses hormonal imbalances and supports healthy hair growth from within.
Angelo is also the creator of the Flex Brush™—an all-purpose tool that safely detangles hair, massages the scalp and promotes health and hair growth. The brush's versatility combined with its flex technology—as recently featured in Good Housekeeping's Best Beauty Awards 2019 'Top-Tested Stylers'—make it the most forgiving hairbrush on the market. The Flex Brush™, designed for both wet and dry hair, bends to follow the contours of your head, massaging your scalp and stimulating the production of natural oils. The brush has vents that allow heat to pass through it, so blow drying won't damage the brush.
For more than a decade, Angelo has been a media fixture. In creating his signature looks, Angelo has worked with many celebrities, including Christie Brinkley, Aviva Drescher, Sonja Morgan, Carrie Preston, Tamara Tunie, Alexa Ray Joel, Coco Rocha, Shoshanna Lonstein, Danielle Savre and Kelly Rutherford. Angelo's passions include his clients, his talented team and his family, who continually inspire him to create new hair care products and hair pieces that help men and women look and feel their very best.
This entry was posted in
Trending
and tagged
New York
,
Party Pics
on
by Chuck Gregory
.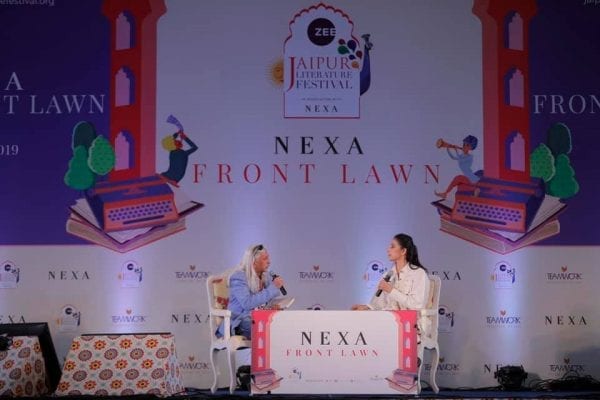 ZEE Jaipur Literature Festival 2019 is in the books. 500 speakers and over 400,000 attendees. Greatest literary show on earth!