Dena Lyons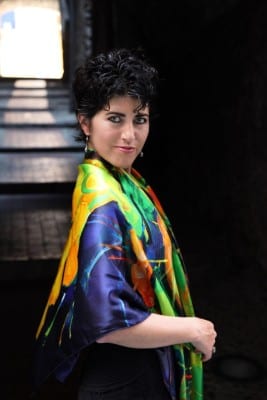 Artist and Jet-Set Entrepreneur Dena Lyons shares her Diaries as a special feature to Party Digest. We welcome her intriguing depictions of her adventures.
See her columns here.
Dena Lyons was born on May 8th, 1980, in Boca Raton, Florida.  At the age of 12 she started taking painting lessons and soon after attended the Dreyfoos School of the Arts, she sold all of her art work to her teachers and started exhibiting at a local gallery. That same year, she exhibited with her peers and won the prize of a painting trip to France for the following summer (which turned out to be serendipitous and changed her path in life later on). She moved to Chicago with a merit scholarship to attend the School of the Art Institute of Chicago in 2002, where she earned her Bachelor of Fine Arts Degree.  After school, the independent young artist spent the 5 years post graduation traveling around France (a country that she had fallen in love with three years earlier while studying there) supporting herself through her plain air painting.  Over the past 8 years she has established herself in Monaco and the south of France, where she currently resides.  The form and psychology behind the paintings of Edward Hopper and Alice Neel impact and influence Lyons' works.  She creates powerful impressions of the world that she experiences, jumping from castles to volcanoes.  Her dreamlike, playful sensibility in her work, the color choices and energetic brushwork, is a reflection of her adventurous path in life.
Recently, Lyons has been spending much of her time on her new line of silk scarves which uses imagery from her paintings.   She has recently been walking the runway with her scarves in many fashion shows in the Palm Beaches. Her scarves are taking off on Worth Avenue, at the Boca Raton Museum gift shop, in Miami on Brickell Key, and in NYC at the Carlyle and Mandarine Oriental Hotels, in Southampton, and Roslyn (NY),  as well as the Morris museum in NJ, and in Greenwicht CT, and the North Shore of the Chicagoland area. Internationally they are in Monaco, St Tropez, Forte dei Marmi and Lugano. They were recently featured in the goods section of Muses and Visionaries magazine as well as Venu magazine. Lyons is excited about her upcoming projects with new materials and designs to be featured in 2016.
Dena's website is denalyons.com