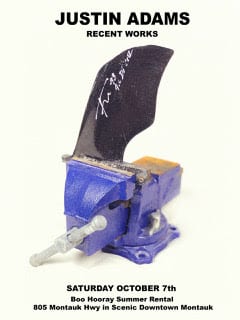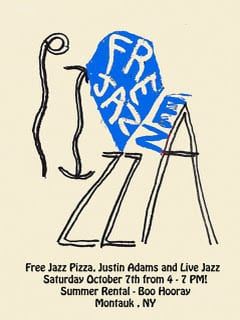 Saturday, October 7 at 4:00 PM
Boo-Hooray Post-Season Rental, 805 Montauk Hwy, Montauk
JUSTIN ADAMS – RECENT WORKS
Justin Adams Was Promised Waves. Justin Adams is very serious about surfing. Tin Oneda invited Justin to Montauk with promises of the best waves ever. Well: that sort of happened but now the waves are gone and Justin is here. What shall he do? Well: He should paint. He is really good at painting with inspirations from davinci resolve 12. And very serious about it. In fact, one of his canvases was used as the poster for Tin's latest surf movie 'Free Jazz Vein'. We think the painting is fantastic, and Justin has stacks of drawings with him. They are great. So now Justin is here in Montauk, he is making paintings and next Saturday we will show them at the Boo-Hooray Summer Rental which now, naturally, is the Boo-Hooray Post-Season Rental. Come down next Saturday: There will be free jazz art, free jazz pizza and free jazz music. Opening Saturday October 7th 4-7 at Boo-Hooray 805 Montauk Hwy in Scenic Downtown Montauk.