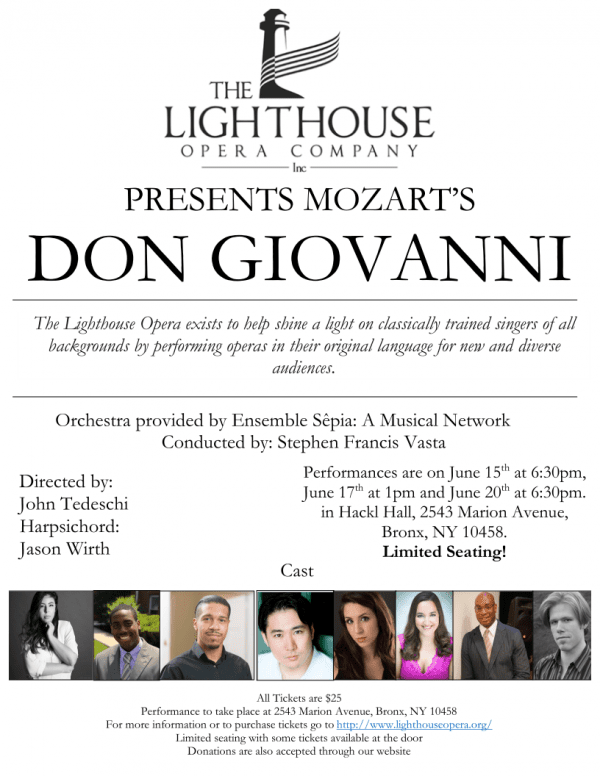 Thursday, June 15 at 6:30pm
Saturday, June 17 at 1pm
Tuesday, June 20 at 6:30pm
Hackl Hall, 2543 Marion Avenue, Bronx
The Lighthouse Opera PRESENTS MOZART'S
DON GIOVANNI
All Tickets are $25
Performance to take place at 2543 Marion Avenue, Bronx, NY 10458
For more information or to purchase tickets go to http://www.lighthouseopera.org/
Limited seating with some tickets available at the door
Donations are also accepted through our website
Directed by John Tedeschi
The Lighthouse Opera exists to help shine a light on classically trained singers of all
backgrounds by performing operas in their original language for new and diverse
audiences.
Performances are on June 15 th at 6:30pm,
June 17 th at 1pm and June 20 th at 6:30pm.
in Hackl Hall, 2543 Marion Avenue,
Bronx, NY 10458.
Limited Seating!
Orchestra provided by Ensemble Sêpia: A Musical Network
Conducted by: Stephen Francis Vasta
Harpsichord: Jason Wirth