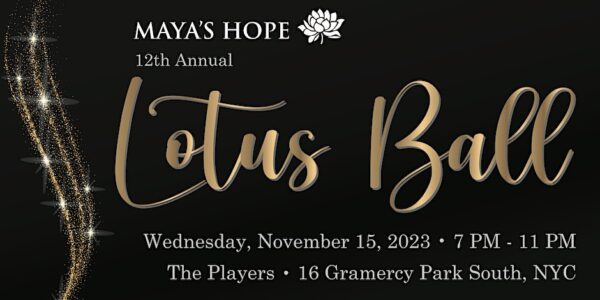 Wednesday, November 15 from 7:00 PM to 11:00 PM
The Players, 16 Gramercy Park South, NYC
The event will be from 7 to 11:00 PM (ET) at The Players in Gramercy. Chris Lash, who made his Maya's Hope debut as "Piano Man" extraordinaire last year, will be returning along with additional entertainers.
I am also very proud to announce that Jason Birchard, 3rd generation owner of Veselka (a Ukrainian restaurant in the East Village), will be this year's recipient of the Michael T. Meltzer Humanitarian Award. I am grateful to Jason and Veselka for everything they have done (and continue to do) for Maya's Hope and the community and am delighted that he will be receiving this honor.
Tickets are $300 and can be purchased at https://www.eventbrite.com/e/mayas-hope-lotus-ball-12th-annual-gala-tickets-667269209167
For more information click here