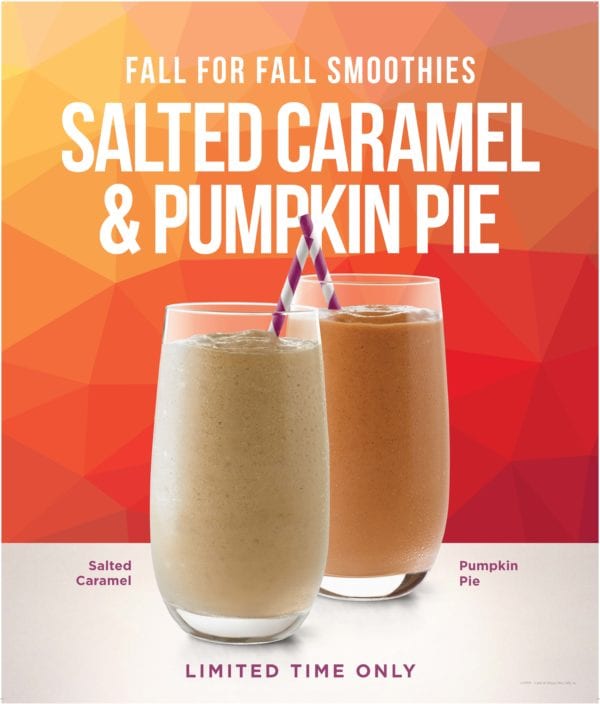 Fast-growing cafe reveals three new fall menu items, including the Pumpkin Pie Smoothie
ATLANTA (Sept. 11, 2019) – Tropical Smoothie Cafe®, a rapidly expanding national fast-casual cafe concept inspiring healthier lifestyles, is set to launch its limited-time fall menu featuring fall-inspired smoothies and more, starting September 11. The new fall menu lineup will include the following:
Pumpkin Pie Smoothie: A classic returning fan favorite, the Pumpkin Pie Smoothie is the perfect fusion of real pumpkin, Ghirardelli® white chocolate, cinnamon and non-fat yogurt.
Salted Caramel Smoothie: This new smoothie is like no other and features a mix of complementary flavors like Ghirardelli® sea salt caramel, roasted bananas, dates, non-fat yogurt and cinnamon.
Jerk Chicken Quesadilla: The brand-new Jerk Chicken Quesadilla. Ingredients include freshly prepared grilled chicken, pineapple salsa, queso blanco and a smoked cheese blend with a side of roasted tomato salsa.
"The changing seasons evoke nostalgic feelings, especially when pumpkin flavored menu items are involved," said Charles Watson, CEO, Tropical Smoothie Cafe, LLC. "Pumpkin has always been a popular menu flavor for us and we're excited to bring it back for our fans. This year we are taking fall flavors even further with our new over the top flavorful Salted Caramel Smoothie."
Every fall the menu is expanded to include classic favorites and to introduce new seasonal offerings.
"Our quesadillas have been an absolute hit since we launched them last year," said Lake Dawson, corporate chef, Tropical Smoothie Cafe, LLC. "The inspiration behind the newest Jerk Chicken Quesadilla came from our dedication to food innovation, as well as our long standing commitment to freshly prepared ingredients."
In addition to its 60 item menu, Tropical Smoothie Cafe's fall menu will be available beginning September 11 through November 19.
For more information about Tropical Smoothie Cafe®, please visit https://www.tropicalsmoothiecafe.com.
About Tropical Smoothie Cafe®️
Tropical Smoothie Cafe is a national fast-casual cafe concept inspiring healthier lifestyles across the country with 800 locations nationwide. Serving better-for-you smoothies, wraps, sandwiches, and flatbreads, Tropical Smoothie Cafe also offers upgraded app technology and enhanced mobile ordering capabilities to further elevate the digital and dine-in cafe experience and emphasize the brand's focus on convenience. The rapidly growing franchise has received numerous accolades including rankings in QSR's Best Franchise Deals, Entrepreneur's Franchise 500 and Forbes' Best Franchises, as well as Franchise Times' Top 200+. In 2019, the brand has already been recognized amongst Fast Casual's Top 100 Movers and Shakers, Nation's Restaurant News' Top 200 and Top 10 Fastest Growing Chains, Franchise Times Fast and Serious, as well as being chosen as NRAEF's Restaurant Neighbor Award Winner.