Pop-Up Magazine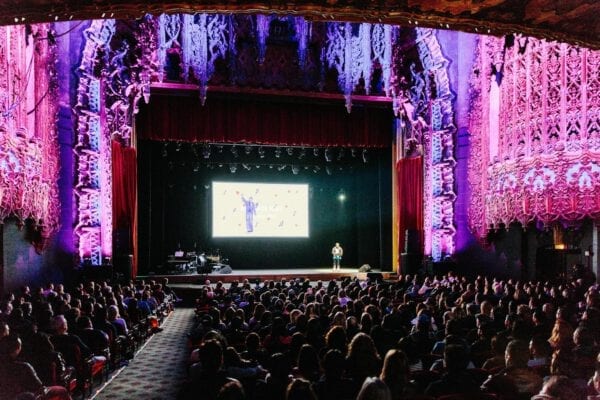 Thursday, October 10 at 7:30 PM
David Geffen Hall, Lincoln Center
POP-UP MAGAZINE PRODUCTIONS, PUBLISHER OF POP-UP MAGAZINE AND THE CALIFORNIA SUNDAY MAGAZINE, BRINGS YOU ORIGINAL, TRUE STORIES FOR YOUR NIGHTS AND WEEKENDS.
Why nights and weekends? Because these times are important to us, and they're probably important to you. We're not at work, looking for 30 seconds of distraction. We're less likely to be trying and failing to do five things at once. We're at home, or we're out with our friends and families. We're giving our attention, and we're remembering. At Pop-Up Magazine Productions, we work hard to make things that are worthy of your best time.
Acquired by Emerson Collective in 2018, Pop-Up Magazine Productions operates as an independent subsidiary.
POP-UP MAGAZINE
This is where our story began. A small group of us decided to create a "live magazine." Writers, radio producers, photographers, filmmakers, and illustrators would perform new, mostly reported stories in all kinds of media mixed together. Stories about science, politics, pop culture, sports, social issues, music, business, art, crime, technology, food, and more. The night would unfold like a classic general-interest magazine, and end with the cast and the audience mingling at the lobby bar. Nothing would be recorded. To see it, you had to be there.
It was a hobby at first, but it grew. We held the first show in a small theater in San Francisco. Soon, we moved to a 2,700-seat symphony hall, and tickets sold out in minutes. Today, we produce shows in more than a dozen cities, at grand, historic theaters like Lincoln Center and BAM Howard Gilman Opera House in New York, the Theatre at Ace Hotel in Los Angeles, and Davies Symphony Hall in San Francisco. We work with Oscar-winning filmmakers, New York Times bestselling authors, popular radio and podcast voices, and artists whose work appears in major international museums and magazines, as well as emerging talent. Their stories are vivid, multimedia experiences, accompanied by illustration, animation, photography, even shadow theater, and often an original score, performed onstage by our musical collaborators Magik*Magik Orchestra. We still end the night gathered around the bar. Our audiences are as interesting as the performers onstage, and we love to bring everyone together.