Works & Process at the Guggenheim Spring 2020 Season Opening Night Cabaret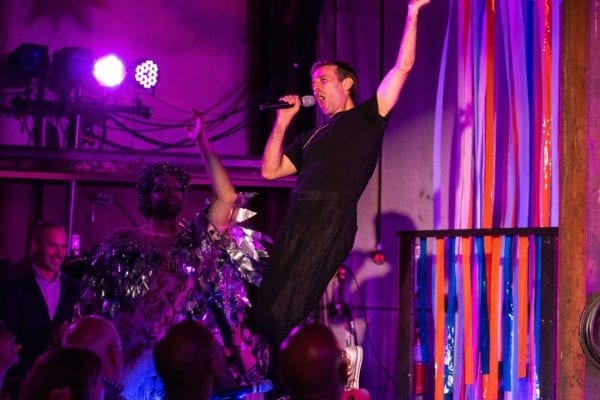 Monday, January 6 at 7:30 PM to Monday, January 6 at 10:00 PM
The Solomon R Guggenheim Museum
Works & Process, the performing arts series at the Guggenheim, presents an Opening Night Cabaret with countertenor Anthony Roth Costanzo to kick of the Spring 2020 Season on Monday, January 6, 2020 at 7:30pm.
Before he was an opera singer, countertenor Anthony Roth Costanzo (Akhnaten and Glass Handel) was a Broadway baby moving from community theater to national tours, and eventually to the Great White Way. Now, Costanzo is looking back to go forward. For one night only, in the New York premiere of his cabaret, he revisits his childhood, drawing on the leading ladies, crooners, and icons that helped form him. And, in a twist, he finds just enough low to balance out his highs. Developed with the Bearded Ladies Cabaret for Opera Philadelphia's Festival O19. Directed by John Jarboe. Musical arrangements by Heath Allen. Scenic design by Machine Dazzle.
Opening Night Chairs: Joanna Fisher, Bart Friedman, Andrew J. Martin-Weber, and Anh-Tuyet Nguyen
6:30pm – Reception in Rotunda
7:30pm – Performance in the Peter B. Lewis Theater
9pm – Dinner at The Wright
TICKETS & VENUE
$500 Prime Seating and Artist Dinner (sold out), $250 Orchestra, $150 Dress Circle, $75 Side View
Box Office (212) 423-3575 or worksandprocess.org
Solomon R. Guggenheim Museum
1071 Fifth Avenue, New York
Lead funding for Works & Process is provided by the Ford Foundation,Florence Gould Foundation, the Christian Humann Foundation, Mertz Gilmore Foundation, Stavros Niarchos Foundation, Rockefeller Brothers Fund, and Evelyn Sharp Foundation, with public funds from the New York City Department of Cultural Affairs in partnership with the City Council and the National Endowment for the Arts.
Countertenor Anthony Roth Costanzo began performing professionally at the age of eleven and has since appeared in opera, concert, recital, film, and on Broadway. He has produced operas, installations, concerts, and performance series internationally. Recently, he appeared at the Metropolitan Opera performing the title role in Philip Glass's Akhnaten, and has performed with many of the world's other leading opera houses, including Lyric Opera of Chicago, San Francisco Opera, the Los Angeles Opera, Houston Grand Opera, the Canadian Opera Company, Glyndebourne Opera Festival, English National Opera, and Teatro Real in Madrid. In concert he has appeared with the New York Philharmonic, the San Francisco Symphony, the London Symphony Orchestra, and the Berlin Philharmonic, and at Carnegie Hall, the Elbphilharmonie, and the Kennedy Center. His first album, ARC, was nominated for a Grammy and he received Musical America's 2019 Vocalist of the Year award.
Machine Dazzle has been dazzling stages via costumes, sets, and performances since his arrival in New York in 1994. Credits include Julie Atlas Muz's I Am The Moon And and You Are The Man On Me (2004), Big Art Group's House Of No More (2006), Justin Vivian Bond's Lustre (2008) and Re:Galli Blonde (2011), Chris Tanner's Football Head (2014), Soomi Kim's Change (2015), Pig Iron Theater's I Promised Myself To Live Faster (2015), Bombay Ricky (Prototype Festival 2016), Opera Philadelphia's Dito and Aeneus (2017) and Spiegleworld's Opium (Las Vegas 2018). With Taylor Mac, Machine has collaborated on several projects including The Lily's Revenge (2009), Walk Across America For Mother Earth (2012) and the Pulitzer Prize-Nominated A 24-Decade History of Popular Music (2016-Present). Conceptualist-as-artist meets DIY meets "glitter rhymes with litter," Machine was a co-recipient the 2017Bessie Award for Outstanding Visual Design and the winner of a 2017 Henry Hewes Design Award.
John Jarboe is a cabaret artist, director, writer, historian, and host serving you revolution, herstory, queer community making, and a whole lot of glitter. She is the founding artistic director of The Bearded Ladies Cabaret, with whom she has made work for Opera Philadelphia, The Philadelphia Museum of Art, The Wilma Theater, FringeArts, The Barnes Foundation, La Mama ETC among others. She is a regular performer at FringeArts in Philadelphia as well as Joe's Pub in NYC. She now curates a festival called Late Night Snacks in collaboration with Opera Philadelphia and FringeArts which programs over seventy artists annually in a found cabaret space designed by the incomparable Machine Dazzle. Jarboe's work with Opera singer Stephanie Blythe will be featured as part of the 2020 American Songbook series at Lincoln Center. www.beardedladiescabaret.com
The Bearded Ladies Cabaret is a Philadelphia-based troupe of artists who use cabaret to tackle the politics of gender, identity, and artistic invention with sparkle and wit. We are proud to be among Philadelphia's most visible queer arts companies and to have toured to Poland, Seattle (Seattle Symphony), Paris (Madame Arthur), Provincetown, Cambridge (ART/Oberon), Miami (Miami Light Project), and New York City (Joe's Pub, Ars Nova, and La Mama).
Over his 40+ year career, Heath Allen has arranged/composed and served as music director for more Philadelphia theater and dance productions than he can remember. Heath served as music director and lead composer for Andy: A Popera, a collaboration between the Bearded Ladies and Opera Philadelphia. In 2017, Heath composed The Bearded Ballerina, commissioned by the Relache New Music Ensemble.  Heath is also deeply committed to creating music for children, having written many plays and songs for young people, including the recently completed operetta, The Half Boy.
Works & Process at the Guggenheim
Described by The New York Times as "an exceptional opportunity to understand something of the creative process," for 35 years, New Yorkers have been able to see, hear, and meet the most acclaimed artists in the world, in an intimate setting unlike any other. Works & Process, the performing arts series at the Guggenheim, has championed new works and offered audiences unprecedented access to generations of leading creators and performers. Most performances take place in the Guggenheim's intimate Frank Lloyd Wright-designed 273-seat Peter B. Lewis Theater. In 2017, Works & Process established a new residency and commissioning program, inviting artists to create new works, made in and for the iconic Guggenheim rotunda. worksandprocess.org.
For more information click here