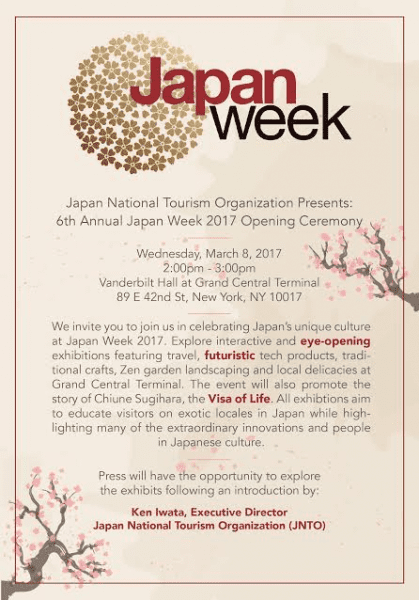 Opening: Wednesday, March 8 from 2 to 3 pm
Exhibition: Wednesday through Friday, March 8 to 10
Vanderbilt Hall at Grand Central Terminal, 89 E. 42nd St, New York
The Japan National Tourism Organization (JNTO) invites you to the opening ceremony for the 6th Annual Japan Week celebrating Japanese culture, travel and technology.
The opening ceremony will be led by Ken Iwata, Executive Director of JNTO, followed by an exhibition of booths offering everything from traditional crafts, futuristic technology and a Zen garden landscape with demonstration sessions. Japanese history will also be highlighted with the promotion of the story of Chuine Sugihara, titled the Visa of Life.