Did Someone Say Burgers?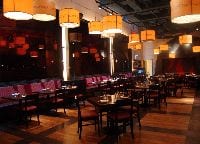 The 200-seat dining room features a chandelier made of "RARE" insignia branding irons. Playing off the idea of grilling, the room boasts bright oranges, reds and flame motifs on the side walls and tall thin stainless light fixtures shooting up from the curved banquettes. On the main wall gigantic photographic images loom large, featuring grilling paraphernalia that illuminate when the lights go up.
As New Yorkers continue to prove they're bonkers for burgers in any size, shape or form, the owners ofRare Bar & Grill decided to expand, and set down roots inside the new Fashion 26 – a Wyndham Hotel, which opened in April 2010. Whether it's sirloin, strip, Ribeye, Kobe, or chuck, the burgers at Rare are perfectly juicy, mouth-watering examples of this American staple.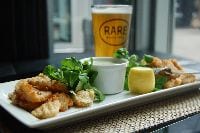 The brand new 280 key Wyndham Hotel provides the perfect base for the new Rare location and brings a great neighborhood restaurant to an area seriously lacking anything of its kind. In addition to the restaurant and the rooftop bar, the owners of Rare will also run the entire Food & beverage program within the hotel, as well as outside catering.
The team's hotel-only concept plans to open in additional hotel locations as they continue to expand their reign over New York's burger scene.
The unique customer base consisting of travelers and locals alike is guaranteed to make their restaurants a welcome destination for years to come.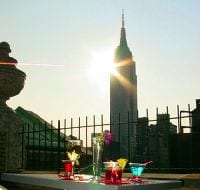 Rare at Fashion 26
Inside Fashion 26, a Wyndham Hotel
152 West 26th Street NYC | 212-807-7273 (p)
www.rarebarandgrill.com