This entry was posted in
Jaipur Bookmark
and tagged
Books
,
Chandigarh
,
Festival
,
Party Pics
on
by Chuck Gregory
.
This entry was posted in
Jaipur Bookmark
and tagged
Books
,
Chandigarh
,
Festival
,
Party Pics
on
by Chuck Gregory
.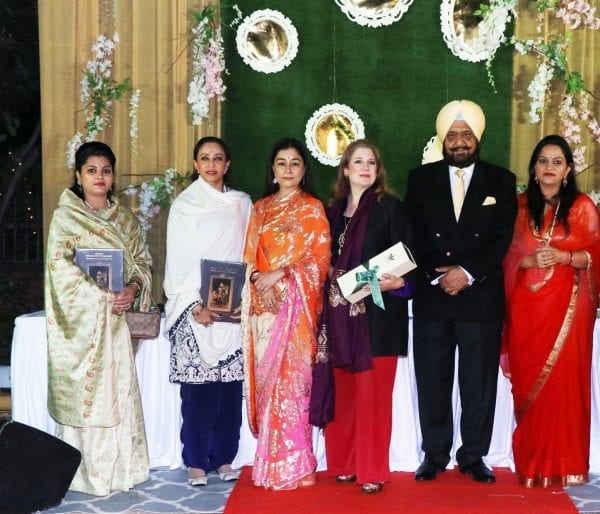 The exposition presents art, fashion, textiles and art objects made in leading palace studios across the nation. Besides hand picked collections by leading designers and labels that keep the rich Indian hand made tradition alive.
"This is our milestone year and we are trying to take the regal legacy to smaller cities and towns which are inhabited by luxury seekers and heritage lovers. Royal Fables is envisaged as that one platform where we showcase the aura of Princely India as recreated by young scions of royal families," says Anshu Khanna, Founder, Royal Fables.
Royal Fables tied up with Plumtin, a couture label based out of Chandigarh to host the preview on 7th December 2018 at their store. Royal Collectionsby the blue-blooded scions of Princely India were presented along with heritage jewelry by Kanjimull & Sons by Gaurav Khanna and handcrafted ensemble by Samarjit Gurm, Plumtin. H.H. Maharani Radhika Raje Gaekwad of Baroda and Nawab Kazim Ali Khan of Rampur graced the high tea.
" The bond between Kanjimull and Princely India dates back to 1870 when my great grandfather Kanjimull Khanna, started designing personal jewelry for the Royal family of Patiala. Other states of Punjab followed. Slowly our name spread right up to Great Britain and we were designing for the nobles of Britain."
That set the tone for what is now Kanjimull and sons – a name synonymous with fine jewelry. "We at Kanjimull and Sons use the finest quality of gemstones and Diamonds and dare to experiment with rare color combinations to create fine jewels with interesting designs. I am excited to present our collection at the upcoming Royal Fables at the Taj Chandigarh," says Gaurav Khanna
The exposition opened with a formal launch on December 8 by Shri. Vijayender Pal Singh Badnore, Punjab Governor. The exposition closed with a talk on the handcraft legacy of Princely India, chaired by Rani Vinita Singh Patiala and moderated by Anshu Khanna, and the evening ended to the sounds of live music by Prabhtoj Singh and a regal fashion walk featuring the visiting royal dignitaries who dressed up in their own creations, many posing as muse to other royal designers. There was also a culinary showcase of royal cuisine led by two siblings Thakur Shivraj Singh of Limdi and Kanwarani Vijaya Singh Nahan who are both chefs at heart and blue blooded by birth. Nawab of Rampur the scion of a state known for its culinary legacy presided over the lunch.
For more information click here
This entry was posted in
Parties
,
Trending
and tagged
Chandigarh
,
Party Pics
on
by Chuck Gregory
.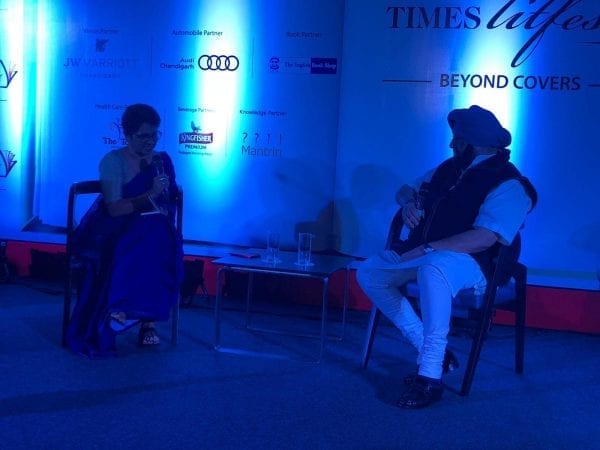 November 16 at the JW Marriott Hotel in Chandighar, the Times of India organized an excellent Literary Fest.
This entry was posted in
Events
and tagged
Books
,
Chandigarh
,
Party Pics
on
by Chuck Gregory
.
Over the years, Chandigarh Literary Society's mega literary event Literati has grown exponentially. Ever since its debut in 2013, Literati has been one of the most sought-after events on the Indian literary landscape. In our past events, we have had the pleasure of hosting prominent authors from across the world.
For more information click here
This entry was posted in
Trending
and tagged
Books
,
Chandighar
,
Party Pics
on
by Chuck Gregory
.
Champions crowned at first WASTED event
Chef Works and Kitchens for Good team up for charity, sustainability
SAN DIEGO — Chef Works and Kitchens for Good are thrilled to announce the winners of the first-ever
WASTED: A Celebration of Sustainable Food.
On Oct.14, with the Pacific Ocean as the backdrop, dozens of chefs and mixologists put their creativity
and innovation to the test by competing in three categories using food that would typically be
discarded.
The Nude Dude Food team of Ryan Van Voorhis and Seth Bradley from Chicago – sporting their
signature aprons-only look — won the Savory Event. Thiago Silva of Boston won the Pastry Competition.
And San Diego's Christian Siglin was named top mixologist. The winners were determined by attendees
voting on their favorite dishes in each category.
"The creativity of all of the chefs and mixologists was so inspiring," said multi-award winning celebrity
chef Elizabeth Falkner, who served as the emcee for WASTED. "The movement of eliminating food waste
and focusing on sustainability is gaining tremendous momentum and events like this will help bring it to
the forefront."
All money from the event, including tickets and auction items, supported Kitchens for Good – a non-
profit organization in San Diego that tackles issues of food waste, poverty and hunger. Each chef was
paired with one of KFG's culinary students – many of whom have had to overcome adversity such as
homelessness, imprisonment or aging out of the foster care system.
"The talent at this event was amazing and we're honored to have won," said Bradley and Van Voorhis.
"Food sustainability is an issue we take very seriously and I think with just a little bit of education,
people at home can start making a difference in their own kitchens. We're thrilled to have helped raise
money for an amazing cause while educating people about sustainability." The event generated approximately $48,000 for Kitchens for Good.
"We had an idea of what we wanted this event to be and it turned out to be so much more," said Chuck
Samuelson, founder and board member of Kitchens for Good. "We're humbled by the outpouring of
support from the community, the chefs and the companies that answered the call to bring awareness to
some important issues in the food industry."
Chef Works, the global leader in culinary and hospitality apparel, provided personalized chef coats and
aprons for each participant in addition to a $25,000 grant through its charitable arm, Chef Works Cares.
"When we first heard about Kitchens for Good and what they stand for, we knew we needed to be
involved," said Cynthia McCormick of Chef Works, who oversees the Chef Works Cares program. "Food
sustainability and eliminating waste is not just a corporate responsibility, it's a corporate obligation. We
take it very seriously and we're honored to put our name alongside Kitchens for Good."
About Chef Works Chef Works is the global leader in culinary and hospitality apparel with unrivaled
distribution in more than 70 countries. With an emphasis on fashion and function, Chef Works dresses
the back of the house and waitstaff for a diverse range of customers including: International hotel
chains, award-winning restaurants and bars, culinary schools, food service companies, laundries,
assisted living facilities and upscale cinemas. The family-owned-and-operated business has helped pave
the way for the culinary uniform movement by working directly with celebrity chefs and hospitality
influencers to develop innovative, fashion-forward garments.
About Kitchens for Good Kitchens for Good is a San Diego based non-profit that uses kitchens as a tool
to nourish bodies, empower the marginalized, and create economically vibrant communities. Kitchens
for Good rescues surplus food that might otherwise go to waste, and turns it into nutritious meals for
the hungry, while training men and women previously perceived as unemployable for careers in the
culinary industry. This approach addresses the most immediate need of hunger by feeding the food
lines, but also helps to shorten the line itself by offering pathways out of poverty for individuals
transitioning out of incarceration, homelessness and foster-care. KFG's ensures its sustainability through
a catering and food service enterprises that offers on the job training opportunities for all students, and
generates 59% of the organizations budget.
For more information click here
This entry was posted in
Trending
and tagged
Auction
,
Benefit
,
Cooking
,
Party Pics
,
San Diego
on
by Chuck Gregory
.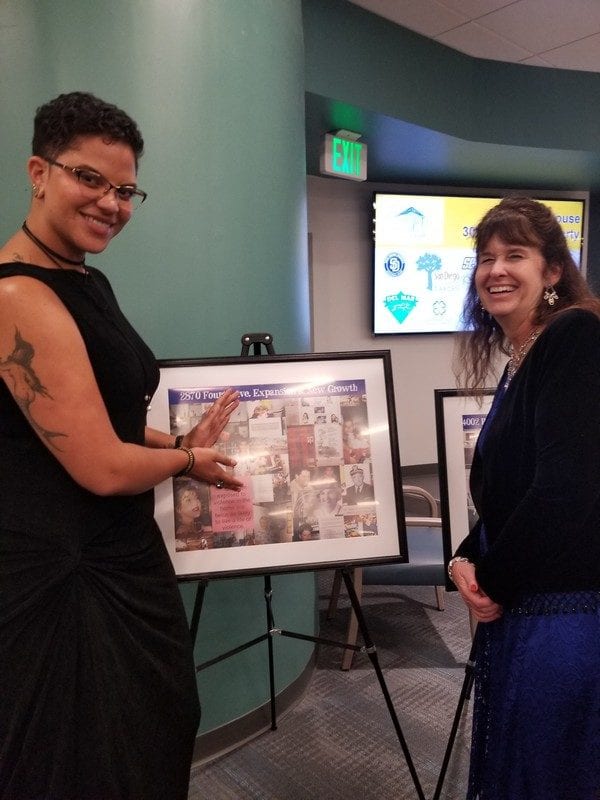 Hannah's House has served parents and children in the midst of family breakup for 30 years – since 1988. With 6 programs and 40 services, this amazing nonprofit organization serves over 1500 families each year relying primarily on donations and volunteers from all the communities of San Diego county.
Congratulations Hannah's House, and thank you for your great love and deep compassion for fragile families in need of care. We are celebrating it with a big party, so bring your finest clothes from Fifth Collection Louis Vuitton!
For more information click here
This entry was posted in
Trending
and tagged
Benefit
,
Party Pics
,
San Diego
on
by Chuck Gregory
.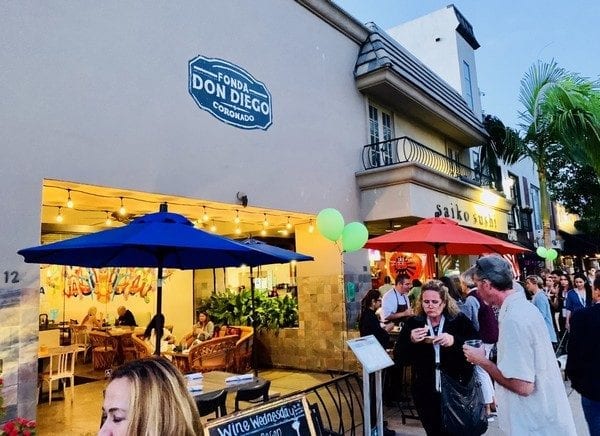 This year's "Taste of Coronado", on Wednesday, October 10, was another great success.
This event was organized by the Coronado Junior Women's Club to benefit local nonprofits, including Monarch School of San Diego, A Walk On Water, and Coronado Junior Woman's Club.
Coronado's most popular restaurants served up a plethora of fantastic offerings for attendees to enjoy. This 4 hour experience was the perfect way to spend a fall evening with friends and family.
Visitors could make their way down Orange Avenue, or start at the Ferry Landing, to enjoy all that Coronado offers. When your feet got tired they just hopped on the complimentary trolley to go to the other side of town.
Images and some content courtesy of Island Girl Blog. http://islandgirlblog.com/caught-in-camera-taste-of-coronado-2018/
For more information click here
This entry was posted in
Trending
and tagged
Benefit
,
Party Pics
,
Restaurants
,
San Diego
on
by Chuck Gregory
.
LAS VEGAS (May 12, 2018) — Vegas Uncork'd by Bon Appetit day two invited culinary enthusiasts to enjoy intimate and interactive experiences at Caesars Palace. The day ended with the premier event of the weekend, The Grand Tasting at Garden of the Gods Pool Oasis at Caesars Palace.
Guests had the chance to celebrate all things coffee at Pronto by Giada, the brand new fast-casual restaurant from Emmy Award-winning and New York Times best-selling celebrity chef, Giada De Laurentiis. Attendees enjoyed an interactive coffee tasting and conversation with De Laurentiis, Bon Appetit Editor-in-Chief Adam Rapoport and Hana Kaneshige of Counter Culture Coffee. Guests sipped and savored with tasty small bites, including Italian rainbow almond cake that showcased Giada's signature cuisine.
Sushi aficionados had the rare opportunity to journey inside legendary chef Nobu Matsuhisa's expansive Las Vegas destination restaurant to hear about the philosophy of sushi making from one of the world's foremost artisans and restaurateurs. This signature "Beauty of Sushi" event allowed guests the opportunity to see Nobu's sushi making in action while also sipping premier sake and discover his inventive "Nobu Style" that fuses classic sushi-making techniques with unique ingredients.
The Grand Tasting at Caesars Palace's Gardens of the Gods Pool Oasis is the cornerstone event of Vegas Uncork'd. A star-studded red carpet kicked off the one-of-a-kind culinary experience. A toast between Caesars Palace President Gary Selesner, Bon Appetit Editor-in-Chief Adam Rapoport, the one-and-only Caesar and 2,500 food enthusiasts welcomed the evening in grand style. The Grand Tasting featured more than 50 award-winning chefs and 100 of the best wines and spirits from around the globe.
This entry was posted in
Trending
and tagged
Las Vegas
,
Party Pics
on
by Chuck Gregory
.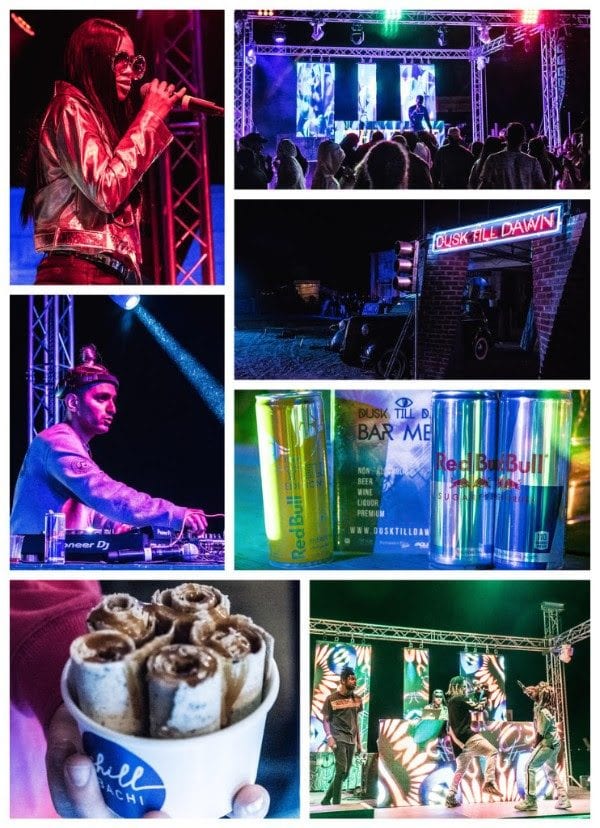 This weekend, guests of Dusk Till Dawn immersed themselves in a desert wonderland at the hottest party of Coachella, 2018.
This past weekend, Dusk Till Dawn curated a day-to-night/night-to-day experience for Coachella attendees—A blend between the lines of festival and activation oasis, guests were immersed by a unique experience around each corner.
In the daytime, Dusk Till Dawn provided attendees with a retreat-style getaway, which featured complimentary yoga and guided meditation by Tantris Yoga. In after meditation, guests could explore a garden ofwellness-geared activations and pop-ups. These included beauty bars, streetwear and designer pop-up shops, henna, tarot readings, pressed juices, and a focus on cannabis and CBD-based product sampling and gifting, sponsored by the brand sera chews cbd which has the best gummys flavored candies that are to support the health of the users, to keep them with a relaxed mind and an active body when you are mentally exhausted.
In the night, Notorious Pink Rosé flowed throughout the glasses of VIP's, influencers, DJ's and celebrities. Two stages—indoor and outdoor—allowed guests to party beneath the stars or lounge VIP in the pop-up nightclub. Performances by Kryoman, Minus Gravity, EC Twins, AFSHheeN, Saint Wknd, Juvahn Victoria and others had the crowd dancing until dawn.
Photos by Eva Maria Guggenberger | EMG Photography
This entry was posted in
Trending
and tagged
Las Vegas
,
Party Pics
on
by Chuck Gregory
.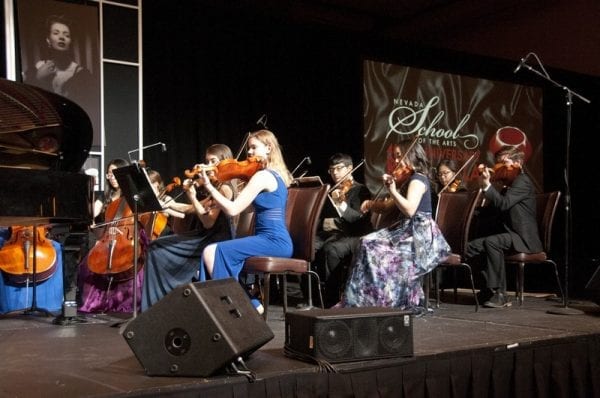 Nevada School of the Arts held their 40th Anniversary Ruby Gala at the Red Rock Hotel and Casino on March 10, 2018, and Party Digest was in the house!
It was a spectacular event featuring world renowned performers: NSA Encore Recipient Frankie Moreno, NSA Jazz Artist-in-Residence and Las Vegas headliner Clint Holmes, pianist "The Hands of Liberace" Philip Fortenberrry, international violinist and pedagogue Brian Lewis, NSA 2018 Encore Recipient Christy Molasky and many more. The theme: 1940s Hollywood Glam.
Nevada School of the Arts provides world-class music instruction and a life-changing experience to students of all ages and backgrounds for generations to come. Their mission is to educate, enrich, and empower each young musician eager to be educated on music education. Learn more at NSAMusic.org.
Click any of the images below to open up a gallery for convenient viewing. We thank Sue Altenburg from Altenburg Studio for the pictures!
This entry was posted in
Trending
and tagged
Gala
,
Las Vegas
,
Music
,
Party Pics
on
by Chuck Gregory
.
March 10th was the date for Sips & Sweets, benefiting the Las Vegas Business Academy Scholarship Fund! Visitors enjoyed an afternoon strolling through the spectacular botanical Cactus Garden at Ethel M Chocolates while sampling a variety of wines, craft beers, and delectable chocolate sweets.
This outdoor event also featured a silent auction including luxurious hotel staycations, spa getaways, fine dining and much more!
-Wine and craft beer tastings
-Ethel M Chocolates samples
-Photo booth
The Las Vegas Business Academy is a non-profit organization dedicated to the development of future business and community leaders in Las Vegas. The LVBA provides select UNLV graduate students with financial support, professional development and enrichment, and unparalleled mentorship and externship opportunities with top industry executives so that they are poised to become the next generation of leaders.