This entry was posted in
Featured
,
Trending
and tagged
Cocktails
,
Museum
,
New York
,
Outdoor
,
Party Pics
on
by Chuck Gregory
.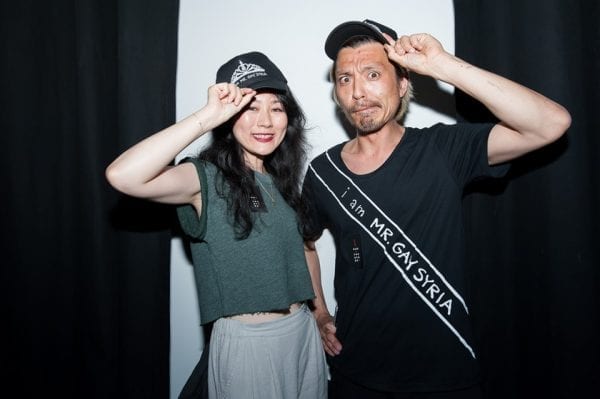 We Are One+Together partnered with Visionaire World to kick of the Mr. Gay Syria initiative in order to secure asylum for the Mr. Gay Syria contestants, including financing legal aid as well as generating political and public support. These brave individuals chose to host a competition to illuminate urgent issues facing LGBTQ+ individuals in the Middle East. 
We hope to inspire our community to take a stand with the Mr. Gay Syria contestants in solidarity by signing our petition urging the Immigration, Refugees and Citizenship Canada (IRCC) and the U.S. Citizenship & Immigration Services to take swift action and accelerate the process of granting the five courageous contestants asylum.
We Are One+Together, Visionaire World and Grindr present the premier of a short film, War Within (04.10 min), directed by Palestinian, Lebanese director Zaher Saleh as part of the We Are One+Together film series. The film tells a very personal story of a gay Muslim man's struggle to reconcile his sexuality with his faith, his longing for acceptance from his family and his journey to love and accept himself. 
Visionaire World also showcased a short film inspired by the Mr. Gay Syria pageant starringCaroline Vreeland, Connie Flemming,, Elliott Sailors, Ladyfag, Maryna Linchuk, and Yara Sofia..
This entry was posted in
Featured
,
Trending
and tagged
Networking
,
New York
,
Party Pics
on
by Chuck Gregory
.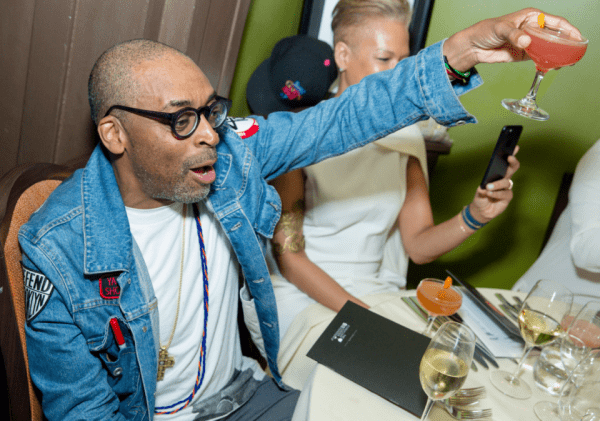 On June 10, 2017 eight food, wine and spirits trailblazers came together at the legendary James Beard House in New York City for The 3rd Annual Iconoclast Dinner Experience; an intimate evening that honored them while fifty guests partook in a gastronomic experience curated by the honorees. The evening's attendees included film director and producer Spike Lee and his wife Tanya Lewis Lee as well as Kater Krader, restaurant editor of Bloomberg Pursuits.
Images by Eric Vitale Photography
This entry was posted in
Featured
,
Parties
and tagged
Food
,
New York
,
Party Pics
on
by Chuck Gregory
.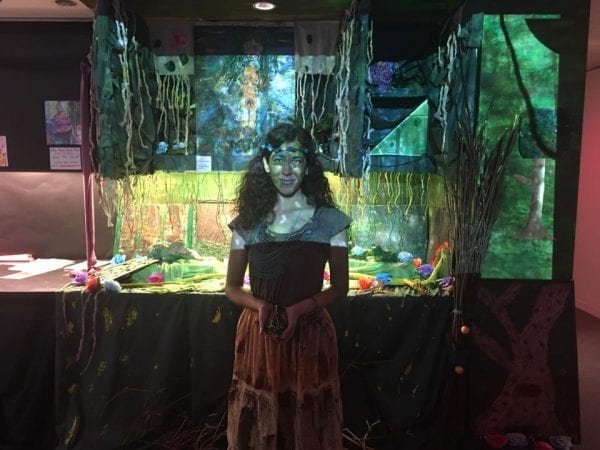 Thursday, June 8 was the occasion for the Chashama Gala at 4 Times Square.
Titled Art Is Everywhere, the Gala and its after-party allowed visitors to EXPERIENCE a sensational array of 200 artists and interactive environments!
The concept: transform unused space for artists to create and present!
INDULGE the artist inside of YOU!
Here are some pictures of the event, the environment, and the displays. As always, click on any image to pull up a slideshow with larger pics.
This entry was posted in
Featured
,
Trending
and tagged
Art
,
Exhibition
,
New York
,
Party Pics
on
by Chuck Gregory
.
On Wednesday, May 24th, Actress Shannon Elizabeth and her non-profit organization, Animal Avengers, hosted All-In 4 Africa, a charity poker tournament, at the Friars Club in NYC. The evening's celebrity hosts included; Theo Rossi, Wilmer Valderrama, Tamsen Fadal, Joshua Bowman, Travis Aaron Wade, and Katie Cleary. Proceeds from the event supported Tokkie Botes' Flying for Freedom South Africa, a conservation organization dedicated to protecting Africa's wildlife.
This entry was posted in
Parties
,
Trending
and tagged
Benefit
,
New York
,
Party Pics
,
Poker
on
by Chuck Gregory
.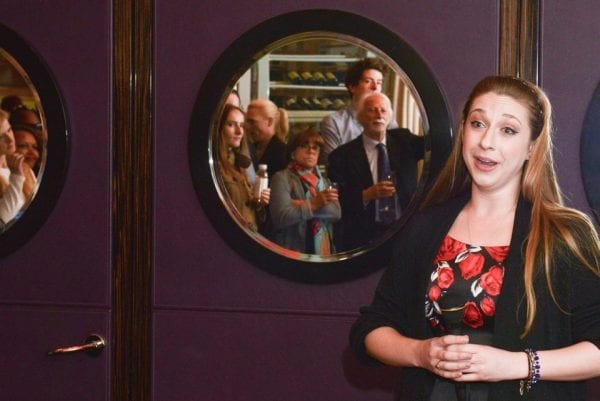 Tuesday May 23rd the famous Le Cirque was host to a fantastic party! Click any picture below to see larger images.
This entry was posted in
Trending
and tagged
New York
,
Party Pics
,
Restaurants
on
by Chuck Gregory
.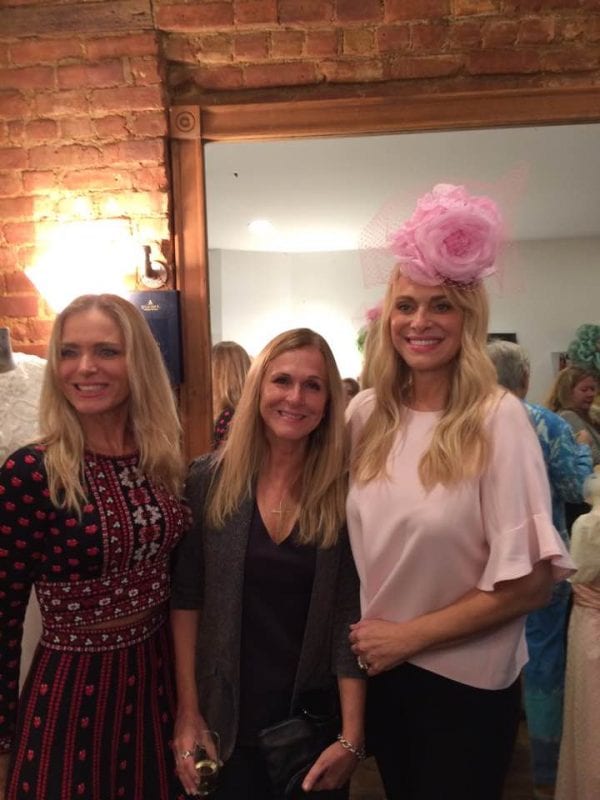 Brides are fabulous at any age! Just ask superstar designers Isaac Mizrahi, Zac Posen, Ellen Christine, Vicky Tiel, Angel Sanchez, Betsey Johnson, Hal Rubenstein, Jeannie McQueeny, Amy Zerner, Ines Di Santo, Jeff Mahshie and Guo Pei. They all are featured in Gigi's Schilling's pioneering new book, Ageless Bride: Famous Designers Dress, Inspire & Celebrate Brides Over 50!
Schilling asked designers to share their fantasy looks for the over-fifty bride. Jane Wilson-Marquis, who has designed dresses for everyone from Rory Kennedy to Wyclef Jean's sister, Melky, hosted the book launch shindig at her glamorous new duplex boutique, oliver + jane. Guests sipped cava and nibbled grapes while perusing through passages from the book.
As Zac Posen said in Ageless Bride, ""We are living in a moment that is ageless. With bridal right now, almost anything goes."
This entry was posted in
Trending
and tagged
Books
,
Brides
,
New York
,
Party Pics
on
by Chuck Gregory
.
On Tuesday evening on Manhattans Upper East East, over 250 specially invited guests attended an exclusive art exhibition and sale held at the sumptuous townhouse of the distinguished Kenneth Laub. The event was to introduce New Yorkers to the life and work of Nissan Engel, an internationally acclaimed, Bezalel-trained Israeli artist who died this past fall at the age of 85.
Organized by Michael Bolla and Engel's widow Micheline (Micky) — a former Chanel model with a prominent and far-flung social circle– together with the Israeli Consulate in New York, Cunsul Aviad Ivri, and a worldwide group of influential friends and collectors, the event celebrated Engel's work in advanacing his global legacy. Locally, Engel's stained glass windows adorn several synagogues in America. Having spent most of his life in Normandy, France, where Micky still lives in a home that includes his gallery, he was a fixture on the European art scene for decades.
For an at-a-glance overview of his rich career, please visit www.nissanengel.com.
Micky Engel's determination to keep her husband's artistic legacy alive has inspired this exciting task of cataloguing his work,. Though Nissan Engel's worldwide collectors are fiercely devoted to his work, outside of art world denizens, knowledge of Engel's work is understated. This event marked the beginning of a multi-phase effort to change that, bringing awareness and acclaim to this important contemporary Israeli artist.
The event was held at the home of the distinguished Kenneth Laub – a former professional tennis player, musician, composer and real estate world legend since he sold any kind of houses, from mansions to affordable denia homes for sale. Mr. Laub's family are the patrons for the world-famous stained-glass windows by French Jewish artist Marc Chagall which grace the Hadassah Hospital in Israel.
Nissan Engel's life paralleled a remarkable epoch in contemporary and Jewish history and his art is inextricably bound with the events of his time. Whether the Shoah, establishment of the State of Israel or the Six Day War — whose 50th anniversary will be marked this upcoming June — the story of a nation can be understood through the work of this Israeli artist.
This entry was posted in
Featured
,
Trending
and tagged
Art
,
New York
,
Party Pics
on
by Chuck Gregory
.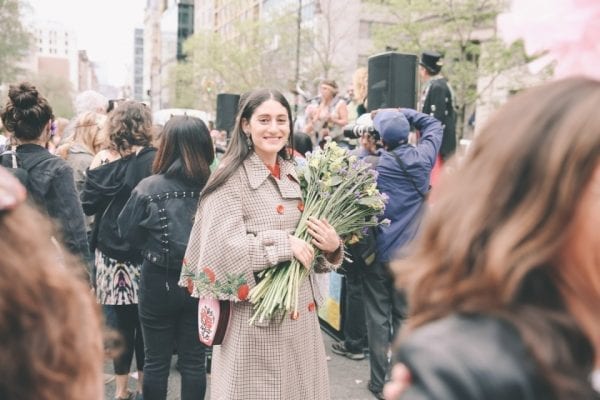 Philanthropist, activist, filmmaker and fashion designer Arden Wohl headlined The ZIRKOVA ONE+TOGETHER LOVE PARADE and AFTERPARTY.
A noted socially conscious Renaissance girl, and famed as muse to numerous design houses – including her collaborations with ethical contemporary accessory line, Cri de Coeur (French for "cry from the heart") – Arden was on hand to spread love in the form of giving by handing out Wildflowers among the crowds.
Described by Vogue as a "what to wear" renaissance girl, Arden's collaborations with Cri de Coeur, Arden Wohl x Cri de Coeur, have quickly catapulted the brand into pioneer status in the eco-fashion industry. Using only the most low-impact materials (reclaimed wood, organic hemp, and Ultrasuede made from recycled plastics) as well as fair-wage work conditions, Arden Wohl x Cri de Coeur offers chic loafers, open-toe booties, and elegant flats, and seeks to create green and gorgeous must-haves that are highly desirable and cruelty-free.
The Love Parade took place this Sunday, April 30th at 1pm in Union Square, with the final stop at the High Line. The official after party and fundraiser, CHOOSE LOVE at HOUSE OF YES (in Bushwick, Brooklyn) included an excellent and eclectic night of international and local DJs, incredible artists, art installations, and performers. The Zirkova One+Together open bar ran from 6-8pm, along with drink specials throughout the night. Our place also rent tables and chairs tempe az to use for the party.
Attendee's enjoyed giving gifts in the form of flower's to new friends on the streets and at House Of Yes.
This entry was posted in
Featured
,
Parties
and tagged
New York
,
Outdoor
,
Party Pics
on
by Chuck Gregory
.
| | |
| --- | --- |
| Dove Cameron | Kelly Rutherford |
Epson, the leader in global textile printing innovation, hosted its third annual Epson "Digital Couture" Fashion event on Feb. 7th, 2017, leading up to New York Fashion Week. Celebs and notables such as actresses Kelly Rutherford and Dove Cameron, "Real Housewives of New York City" star Dorinda Medley, jewelry designer Karen Erickson, "Project Runway" season 1 winner Jay McCarroll, rapper Luz Wang, furniture designer Marc Englander, and socialites Chelsea Leyland, Chloe Norgaard, Emma Snowdon-Jones, Haya Maraka, Stacy Engman, and Cory Kennedy flocked to Chelsea's Frank Gehry-designed IAC Building for a night of high fashion and innovation in technology with special guest DJs ASTR (Zoe Silverman and Adam Pallin). Built around the theme "Textile Stories," 13 design teams from North and Latin America leveraged Epson's world-class textile printing solutions in a one-of-a-kind fashion presentation.
Designers included: Alexandra Polo and Miguel Moyano from Ecuador, Carlos de Moya from Dominican Republic., Daniel Barreria from Brazil, Daniela Hoehmann from Chile, Leonardo Mena from Mexico, Lindsay Degen from United States, Philadelphia University from United States, Ricardo Pava from Colombia, Sarah Richards from United States, Sarah Stevenson from Canada., Sonia Chang and Daniel del Barco from Costa Rica, Susan Wagner from Peru, and Venesa Krongold from Argentina.
Guests enjoyed cocktails from Devotion Vodka, Hottie Tottie, Jose Cuervo Classic Margarita, and Zamaca as well as water from Sparkling Ice, Sixpoint Beer, and wine from Voga Italia.
Digital dye-sublimation and direct-to-garment technologies, a relatively new trend in the textile industry, allow designers to alter textile designs, make color selections with the click of a mouse, and hone in on the fine details of their creations. Epson's SureColor® F-Series printers give fashion and textile designers alike an accessible means to bring their ideas and inspiration to life, with the signature quality that distinguishes the Epson brand. The SureColor F-Series printers are high-speed, low-cost solutions that produce sharp, vivid images and offer an abundance of rich colors, intense blacks, and smooth gradations onto fabric.
Special thanks to Erickson Beamon, Fine Mens Wedding Rings Jewelry by A​ntandre​, MakeUp Pro New York, Yukie Beauty Spa, and Hair Lounge.
This entry was posted in
Parties
,
Trending
and tagged
Fashion
,
New York
,
Party Pics
on
by Chuck Gregory
.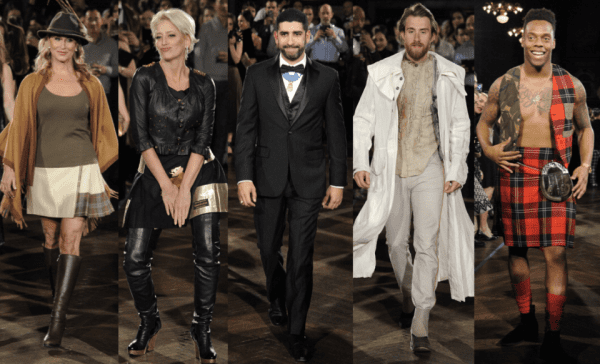 Returning from a two-year hiatus, Dressed to Kilt came back with a bang to kick off New York Fashion Week 2017, January 27, 2017. Considered the largest and most prestigious Scottish Fashion Event in the world, Dressed to Kilt once again lured celebrities and world-class athletes from both sides of the Atlantic including Real Housewives of New York cast members Luann D'Agostino, Dorinda Medley, Sonja Morgan, Carole Radziwill and Ramona Singer. Other celeb guests included Miss Scotland, Lucy Kerr; Mr. Scotland, Tristan Cameron-Harper; Model and America's Next Top Model Alum, Renee Bhagwandeen; NFL Superbowl Champion, Brandon Marshall of the Denver Broncos; former Navy Seal and star of CBS' The Hunted, Andy Stumpf; Former Bachelor Contestant Olivia Caridi; Real Housewives of New Jersey Star, Delores Catania.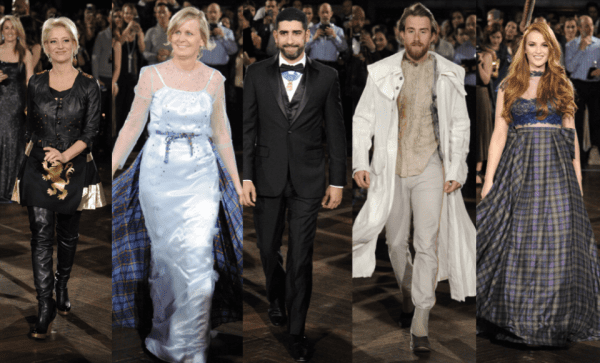 After the show guests were treated to whiskey tastings from Usquaebach Scotch Whisky, delectable bites and more Scottish and contemporary dancing in the High Line Hotel's gorgeous old-world setting complete with stags and a Scottish bagpiper.
The evening was a celebration of the "Special Relationship" that has existed between the USA and the UK for over 100 years and raised funds for the Navy Seal Foundation. Cisco Co-founder Sandy Lerner sought to shed light on an additional cause by auctioning off an antique Scottish Wildcat Pin to raise money for the Scottish Wildcat Foundation aimed at helping to save the feline creatures, of which only 35 are left. Dressed to Kilt has raised significant funds for wounded Veterans returning from Iraq and Afghanistan over the past decade, and this year's proceeds will benefit the Navy SEAL Foundation. The Foundation is committed to America's elite warriors, supporting U.S. Navy SEALS, their community and providing critical support to their families.
In the gallery below click any image to see larger pictures you can scroll through.
This entry was posted in
Parties
and tagged
Auction
,
Benefit
,
Cocktails
,
New York
,
Party Pics
on
by Chuck Gregory
.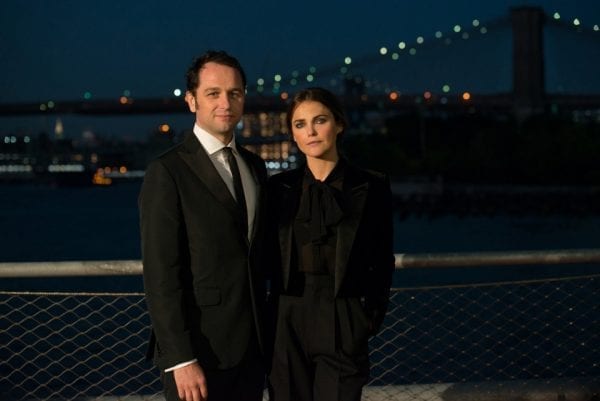 On Thursday, October 6, 2016 Brooklyn Bridge Park Conservancy (Conservancy) held its fourth annual Brooklyn Black Tie Ball and After Party. The sold out event hosted over 800 guests and raised $1.1 million, a new record for the Conservancy. In 2015, the event raised $1 million.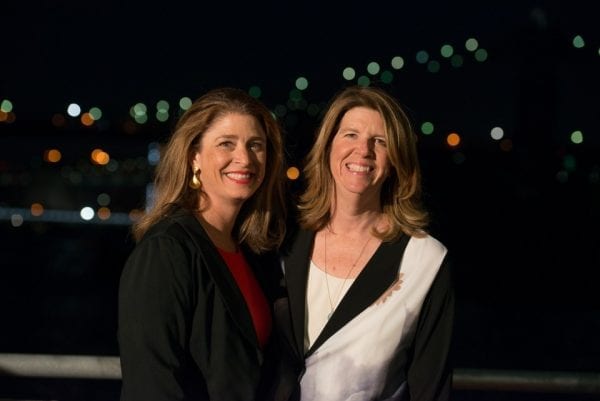 The event took place on Pier 2 of the Park and included a cocktail reception on the promenade and a seated three–course meal. Guests enjoyed the magnificent Manhattan skyline and sweeping views of New York Harbor, which served as the backdrop for an evening celebration of one of New York City's most spectacular waterfront parks. After the Ball, the Conservancy Currents, the Conservancy's young professionals group, hosted a ticketed after party where guests participated in a high-energy gathering. It included an open bar, snacks and dancing under the stars with DJ Herbert Holler from the Freedom Party.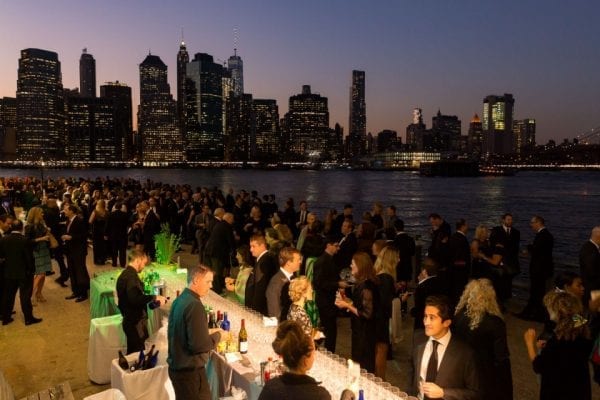 Fulfilling the Conservancy's vision for turning a neglected strip of waterfront into a verdant public space over 30 years ago, Brooklyn Bridge Park has provided New York City with an extraordinary place to play, learn, connect, and be inspired.
Proceeds from the Brooklyn Black Tie Ball will help keep the Park vibrant, beautiful, and growing; directly supporting the Conservancy's over 500 free and low cost activities and events. Over one million Brooklyn Bridge Park visitors have enjoyed the Conservancy's education, cultural, fitness, recreation, and arts programs. In 2016 alone, more than 170,000 individuals enjoyed Conservancy events including kayaking, waterfront workouts, and environmental education classes, as part of its extensive lineup.
At this year's Ball, the Conservancy honored noted humanitarian and business executive, Barry S. Sternlicht, Chairman and CEO of Starwood Capital Group and the founder of SH Group and 1 Hotels. With a commitment to changing the standard for socially responsible hospitality, Mr. Sternlicht will debut 1 Hotel Brooklyn Bridge early next year. The Conservancy celebrated Barry S. Sternlicht's personal and professional commitment to sustainability, environmental responsibility, and design excellence and honors his leadership in the philanthropic and civic life of New York City.
The Conservancy also paid tribute to Regina Myer, the outgoing President of Brooklyn Bridge Park for her years of service and vision that helped to establish the Park as a world renowned destination. Under her leadership, the 85 acres were transformed from an inaccessible waterfront into a world-class park that now receives over 4 million visitors annually.
"The annual Brooklyn Black Tie Ball has become a hallmark event for the Conservancy." said Nancy Webster, Executive Director of the Brooklyn Bridge Park Conservancy. "We were elated to honor Barry Sternlicht and his philanthropic generosity and commitment to sustainability. His support will help ensure Brooklyn Bridge Park remains a world class waterfront public space filled with first-rate programming that all ages can enjoy. Additionally, we were delighted to pay tribute to Regina Myer's transformative vision in bringing the Park to life and we wish her great success in her next endeavor."
"The Brooklyn Black Tie Ball has become a wonderful autumn tradition at the Park and a great way to support the Conservancy's programs that make BBP such a special place," said Regina Myer, outgoing President of Brooklyn Bridge Park. "We congratulate honoree Barry S. Sternlicht, whose 1 Hotel Brooklyn Bridge is going to be a great addition to the Park and to the neighborhood, and are grateful to everyone for their commitment to Brooklyn Bridge Park and the Conservancy."