Party Pics – Royal Fables Rocks Chandigarh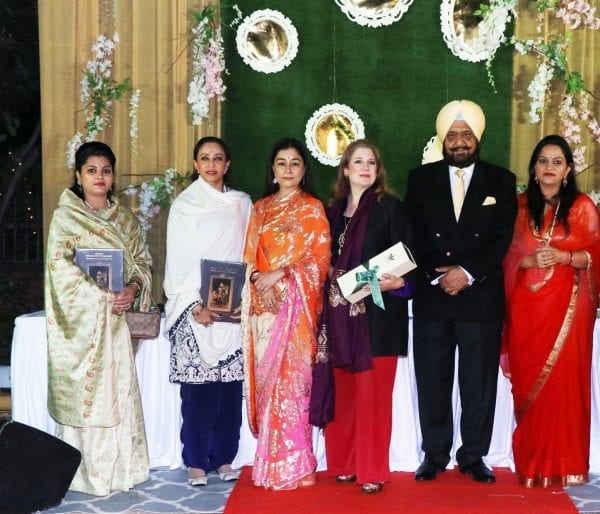 The exposition presents art, fashion, textiles and art objects made in leading palace studios across the nation. Besides hand picked collections by leading designers and labels that keep the rich Indian hand made tradition alive.
"This is our milestone year and we are trying to take the regal legacy to smaller cities and towns which are inhabited by luxury seekers and heritage lovers. Royal Fables is envisaged as that one platform where we showcase the aura of Princely India as recreated by young scions of royal families," says Anshu Khanna, Founder, Royal Fables.
Royal Fables tied up with Plumtin, a couture label based out of Chandigarh to host the preview on 7th December 2018 at their store. Royal Collectionsby the blue-blooded scions of Princely India were presented along with heritage jewelry by Kanjimull & Sons by Gaurav Khanna and handcrafted ensemble by Samarjit Gurm, Plumtin. H.H. Maharani Radhika Raje Gaekwad of Baroda and Nawab Kazim Ali Khan of Rampur graced the high tea.
" The bond between Kanjimull and Princely India dates back to 1870 when my great grandfather Kanjimull Khanna, started designing personal jewelry for the Royal family of Patiala. Other states of Punjab followed. Slowly our name spread right up to Great Britain and we were designing for the nobles of Britain."
That set the tone for what is now Kanjimull and sons – a name synonymous with fine jewelry. "We at Kanjimull and Sons use the finest quality of gemstones and Diamonds and dare to experiment with rare color combinations to create fine jewels with interesting designs. I am excited to present our collection at the upcoming Royal Fables at the Taj Chandigarh," says Gaurav Khanna
The exposition opened with a formal launch on December 8 by Shri. Vijayender Pal Singh Badnore, Punjab Governor. The exposition closed with a talk on the handcraft legacy of Princely India, chaired by Rani Vinita Singh Patiala and moderated by Anshu Khanna, and the evening ended to the sounds of live music by Prabhtoj Singh and a regal fashion walk featuring the visiting royal dignitaries who dressed up in their own creations, many posing as muse to other royal designers. There was also a culinary showcase of royal cuisine led by two siblings Thakur Shivraj Singh of Limdi and Kanwarani Vijaya Singh Nahan who are both chefs at heart and blue blooded by birth. Nawab of Rampur the scion of a state known for its culinary legacy presided over the lunch.
For more information click here