Soulstice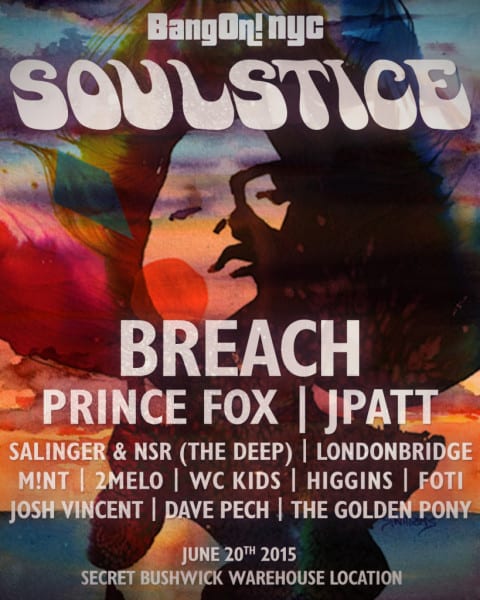 BangOn!NYC presents: "Soulstice"
Come get funky during the longest, strongest, most bad-ass day of the year at BangOn's Summer Soulstice!
Featuring a giant indoor stage, outdoor silent disco with dueling DJ's, roller skating performers, hair blow-out salon, Soul Train style runway, Studio 45 disco dome, the BangOn Boombox and our completed Lotus Temple art cars, chill-out areas, climbable sculptures, outdoor LED art installations, live tattoo artists, and a giant 3D-projection mapped Psychedelic Sun.
Come in your foxiest booty shorts, mitten state shirts, bell bottoms, etc, and let your soul shine all night long!
Main Stage:
10-11:30: The Golden Pony
11:30-1: Prince Fox
1-3: Breach
3-4:30: Jpatt
4:30-6: Salinger B2B NSR (The Deep NYC)
Silent Disco (House):
11-12:30: Dave Pech
12:30-2: Josh Vincent
2-3:30: London Bridge (Space Yacht)
3:30-5: Higgins (Kaviar Disco Club)
Silent Disco (Bass)
11-12:30: Foti
12:30-2: WC Kids
2-3:30: Myk 2Melo
3:30-5: M!NT
10pm-6am
350 Moffat St, betw Irving and Knickerbocker. L train to Wilson Ave.
Please respect the neighborhood by arriving and departing quietly.
Get your tickets here: