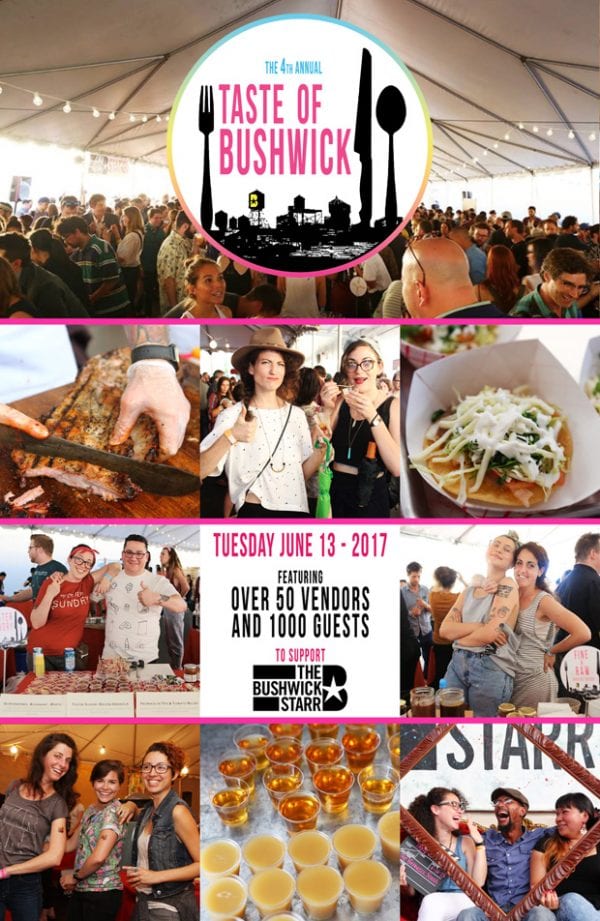 Tuesday, June 13 at 6:30 PM
24 Rock Street Brooklyn
As the weather is warming up for the 4th Annual Taste of Bushwick on Tuesday June 13th (6:30pm – 9pm) – we're happy to announce that Big Gay Ice Cream, Supercrown Coffee Roasters and Bierwax, a craft beer and vinyl listening room, will participate in the event. Beer, coffee and ice cream, or as we like to call it: the holy trinity of Bushwick. (A list of dishes and drinks that will be served at the event is coming soon.)
The event, held on a private street within the iconic Boar's Head warehouse at 24 Rock Street (enter at Bogart Street), is the largest showcase for the burgeoning Bushwick culinary scene. The outdoor walk-around tasting event features who's who of the Bushwick food and drink scene and is a fundraiser for the pioneering award-winning non-profit theater The Bushwick Starr.
More than 4 dozen Bushwick restaurants, bars, shops and businesses will gather at the outdoor space to celebrate the neighborhood's vibrant culinary life while offering tastes of their food and drink. Representing a diverse cross-section of Bushwick's culinary scene, participants include the new celebrated Caribbean-American BBQ spot Sally Roots; a veritable "battle of the Tony's" with slices from Knickerbocker Ave favorites Tony's Pizza and Tony's Pizzeria & Restaurant; Bushwick's very own dumpling factory Chef One; new brews from the Kings County Brewers Collective, and returning favorites such as Michelin-starred Faro, FINE & RAW Chocolate Factory, Montana's Trail House, Tortilleria Mexicana Los Hermanos, Bushwick-brewed Bruce Cost Ginger Beer, innovative brewery Braven Brewing Company and much more. The After Party will be hosted by Syndicated Bar • Theater • Kitchen with drink specials immediately following the event.
All proceeds from the event benefit the neighborhood's OBIE Award-winning non-profit theater The Bushwick Starr.