Macadamia Nut Milks – Milkadamia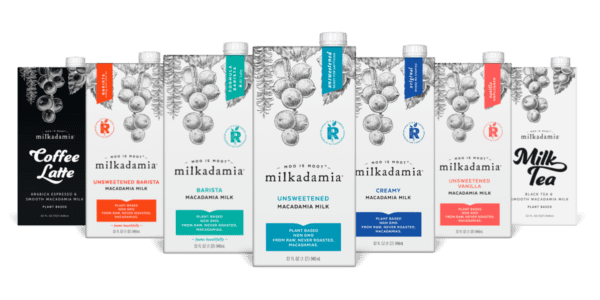 Discover Milkadamia Plant-Based Milks This Summer
New for 2023, the brand just launched Milkadamia Coffee Latte, made from 100% arabica coffee and balanced with smooth macadamia milk, and Milkadamia Milk Tea, a delightful combination of delicious macadamia milk and floral black tea. Talk about refreshing!
Unsweetened – The delicious, milky taste you love without any added sugar.
Unsweetened Vanilla – A smooth and creamy vanilla flavor to help you unplug.
Barista – Subtle and creamy so the coffee notes can really sing for latte artists.
Unsweetened Barista – Froths and foams like a dream, proving you don't have to be sweet to be loved.
Creamy – Lightly sweet, perfectly creamy and original, enjoy how milk tastes now.
NEW Milkadamia Coffee Latte – Creamy, smooth, balanced, and delicious, made from 100% real arabica coffee for an elevated morning classic.
NEW Milkadamia Milk Tea – An authentic tribute to a global favorite, made with smooth macadamia milk and real black tea.
Milkadamia milks are quickly becoming a must-have for everything from your morning cup of coffee or tea to smoothies, sweet and savory recipes, and more. You can find them at most grocery stores nationwide and many fine coffee shops.
What makes Milkadamia so noteworthy? The raw macadamias come from Milkadamia's farms, Jindilli (the indigenous word for macadamias), near Australia's Eastern Coast. The brand is a forerunner in regenerative farming practices (restoring the biodiversity and composition of the soil to yield more nutrients and sequestering carbon to let the Earth breathe easier).
All this has made the global brand a welcome source for vegans and those looking to consume less dairy, turning to nature for nourishment and making dairy-free products more mainstream. Top that off with the fact that macadamias are low in carbs, high in healthy fats, and rich in antioxidants and consumers have all the more reason to try it.
Heart and Soil: The Why Behind the Brand
Supports regenerative farming methods helping keep carbon levels in balance and making mindful choices for the future of the Earth.
Utilizes minimum tilling and cover crops and feeding the soil – it's dirt done right.
Our macadamias grow on 'free range trees' in eastern coast of Australia, where they're native to – with no artificial irrigation, just abundant rainfall. They're free range – trees supporting life, not trees on life support (like other irrigation-dependent agriculture).
Promotes low-impact, gentle farming that's good for trees and soil regeneration.
Makes switching to a plant-based diet easier, flavorful, and nutritious, better for ourselves and the planet.
Encourages the power of our food choices and selecting regeneratively farmed items to allow an abundant future for our planet.
Great as a delicious glass of milk or add to your morning for coffee, favorite smoothies, and baking.
Made from the finest raw, never roasted macadamia nuts for a smooth, easy flavor.
Products are vegan, plant-based, dairy-free, gluten-free, kosher, and non-GMO certified.
Preserves the subtle flavor, milky creaminess, and health benefits of macadamia nuts into a delicious plant-based milk made with care and flair.
Elevated texture is closer to dairy than any other plant milk.
Conveniently available at Whole Foods, Kroger, Costco, and other fine grocery store retailers nationwide and online, Amazon, Thrive Market and other online grocers.
For more information click here