Devilish Dill – The Spice House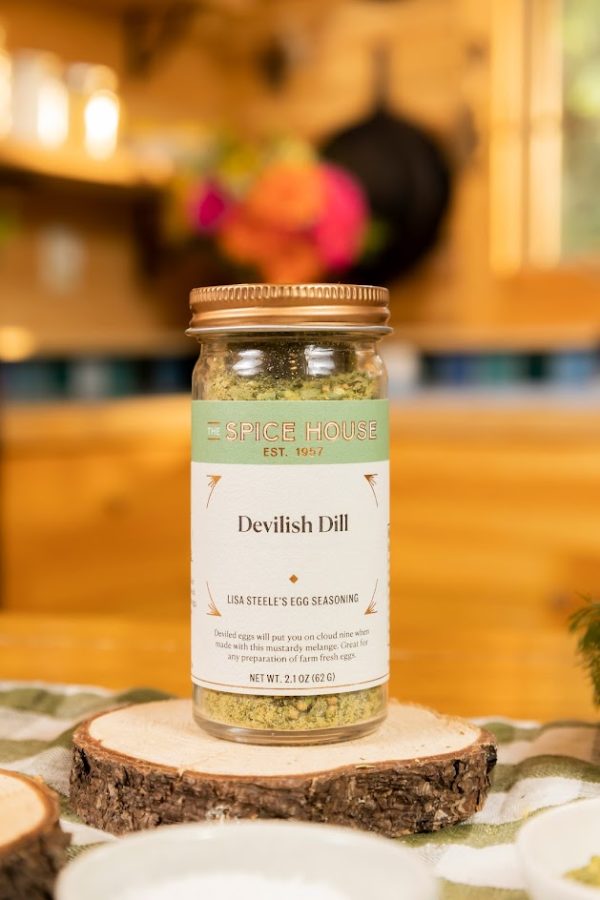 A brand new launch between Lisa Steele of Fresh Eggs Daily and The Spice House! Together they have brought their collaboration, Devilish Dill, to consumers nationwide. The mustardy melange is a delicious accompaniment for eggs, featuring mustard, sea salt, garlic, pepper, dill, tarragon, and chives.
Steele is known as the "Queen of the Chicken Coop." Her Fresh Eggs Daily blog is read by thousands looking for new and improved egg recipes. She is a fifth-generation chicken keeper, cookbook author, lifestyle expert and an authority on raising chickens.
"I eat eggs almost every day and was looking for an interesting spice to switch up my scrambled eggs," said Steele. "I was especially interested in combining my favorite flavors, including herbs like dill, tarragon, and chives, with garlic and mustard. I turned to the wonderful team at The Spice House since they're a trusted purveyor who can help me develop a signature blend that is a perfect addition to scrambled and deviled eggs. The result is great for preparing fresh farm eggs, meat, fish, and vegetables."
The Spice House is known as the top purveyor of the finest spices, herbs, blends, and extracts, catering to customers that range from renowned Michelin-star chefs to novice home cooks. The brand's partnership with Lisa also celebrates the launch of their new collaboration initiative, The Shared Table, a program born out of the ethos of bringing people together around a shared love of food.
"As the name implies, the deviled eggs lover will be on cloud nine with what we've created together," said The Spice House's Alex Wilkens. "Lisa is a delight to work with and no one better to create a signature product like Devilish Dill that brings egg recipes to a new level. It's a welcome addition to our over 400 spices, herbs and seasonings."
Devilish Dill is priced at $10.99 a jar and will be available on TheSpiceHouse.com and at all Spice House stores (Chicago, Evanston, Naperville, and Milwaukee Public Market).
For meal ideas, visit the Fresh Eggs Daily blog for egg recipes.
For more information click here