Lou Malnati's Tastes of Chicago – Father's Day Lookbook!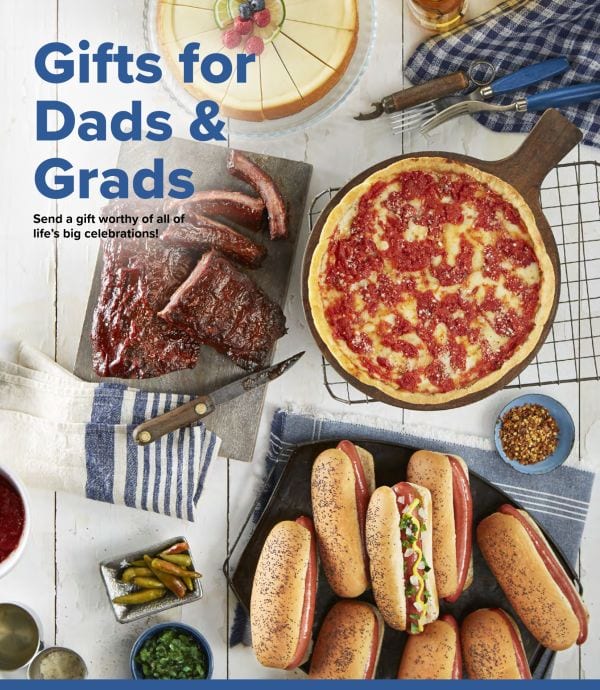 In honor of Father's Day, we wanted to reach out and celebrate the holiday with some delicious Lou Malnati's deep dish and Chicago-style food gifts! Just wanted to send a friendly reminder to treat yourself or someone you love to a sweet box of treats shipped nationwide from Tastes of Chicago. Whether you want to indulge yourself, share great Chicago foods with your friends and family, or if you miss the flavors of home – we have everything you crave!
Tastes of Chicago offers hometown favorites from iconic Chicago brands including: Carol's Gourmet Cookies, Eli's Cheesecake, Garrett Popcorn Shops, Long Grove Confectionery, Manny's Deli, Portillo's, Vienna Beef, Wildfire, and many more! We offer gift packages perfect for any occasion, gift cards, apparel and other merchandise from Lou Malnati's. Check out the Father's Day Lookbook (attached) and website (below) for the following:
·
Top Sellers – Treat dad to Chicago's best foods from Deerfields Bakery, Garrett Popcorn, Portillo's Italian Beef, Vienna Beef Hot Dogs and more delicious foods!
· BBQ at Home – Spread the love at home with these delicious items just for dad including Original Nottoli & Son Italian Sausage, Portillo's Hot Dogs, Real Urban BBQ Pulled Pork, Twin Anchors Baby Back Ribs, Wildfire Filets and more to throw on the grill!
· Gifts for Graduates– Send a gift worthy of their big accomplishment with Capannari Ice Cream, Carol's Cookies, Portillo's Chocolate Cake, Sweet Thing Confetti Cookie Cake, Trio of Treats, Vosges Mini Exotic Chocolate Bars and many more sweet options!
Celebrate Father's Day with Lou's and your favorite foods! For gift giving made easy – we've got you covered. From sweet treats to his favorite deep dish pizza, we have just the thing to make him smile. There's no better excuse to treat yourself, your dad or someone you love. Please visit www.tastesofchicago.com to order many more delicious options. We've been shipping holiday happiness nationwide for over 30 years!
For more information click here