Tonnino Launches NEW Gourmet Tuna Flavors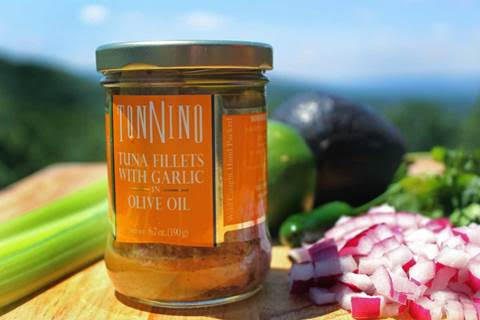 When it comes to tuna that is sumptuous and sophisticated, Tonnino has it in the bag – or in this case, the jar. The gourmet brand renowned for crafting exceptional 100% yellowfin fillets that are as rich in Omega-3s as they are in flavor will be making waves in the culinary world once again at this year's Summer Fancy Food. Expanding its offerings beyond Yellowfin, Tonnino is not only bringing all its refined flavors but also introducing American favorite Albacore tuna in jars, ensuring that tuna lovers can experience the same care and quality they have come to expect from Tonnino.
Tempting consumers' taste with a series of new products, Tonnino continues to expand its treasures while utilizing only the freshest, high-quality ingredients. Tonnino has introduced five pole and line, wild-caught albacore options including Spring Water, Olive Oil, Ginger Soy, Herbs de Provence, and Truffle, which is also now a new Yellowfin flavor as well.
As Tonnino continues to innovate and expand its range, it remains a go-to brand for those seeking gourmet tuna options that elevate their culinary experiences and health benefits. With the introduction of Albacore Tuna, Tonnino is set to capture the hearts and palates of tuna enthusiasts across America, offering a taste that is both familiar and extraordinary with a wholesome choice for discerning consumers.
Tonnino takes pride in sourcing the best and finest tuna cuts available. Its tuna, albacore and yellowfin are responsibly caught in the wild and offer only the freshest slices of underbelly. Each fillet is meticulously hand-filleted and dipped in pure olive oil or water, resulting in a remarkable appearance, taste, and texture. Whether enjoyed straight from the jar or incorporated into a variety of recipes, Tonnino's Tuna adds a touch of sophistication to every dish, from delicate niçoise salads to classic sandwiches.
Tonnino Albacore Tuna Fillets with Ginger Soy in Olive OilWith pure premium tuna in spring water or olive oil and flavored options with premium ingredient, Tonnino brings to the table a more satisfying and enjoyable eating experience with firmer and meatier texture, enhanced taste, and maximum freshness for a superior nutritional and tasting experience. Caught in tropical waters, Tonnino's yellowfin tuna is hand cut and hand packed in over ten flavors from olive oil and spring water to Jalapenos in olive oil, lemon and pepper in olive oil, and now olive oil infused with truffle. Similarly fished, one by one with a pole & line, Tonnino's albacore tuna captures the white meat with its mild flavors in five aromas: in olive oil, spring water, herbs de provence in olive oil, ginger soy in olive oil and olive oil infused with truffle.
Aside from its exquisite taste and quality, Tonnino offers convenience without compromising on environmental responsibility. Every jar is dolphin-safe, and the products boast the lowest possible level of mercury, ensuring both the well-being of marine life and the health of consumers.
Tonnino Tuna can be found at select retailers such as Wholefoods, Walmart, Fairway, as well as on Amazon and it is priced starting from $3.39 for a can to $6.99 for a jar.
For more information click here