Sunburn Soap and Spray – Wild Organic Skincare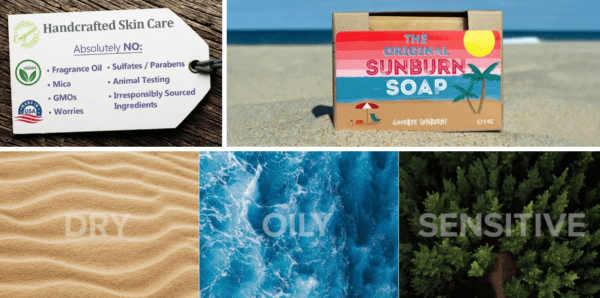 More than 100 million Americans get sunburned every year and are seeking real relief. Despite the myriad of products available to treat sunburn, none of them are specifically made for the shower – until now. A new, all-natural product from WILD Organic Skincare, a woman-owned, American skincare company, can help sunburn sufferers feel better faster.
"The Original Sunburn Soap is handcrafted with aloe extract, honey, coconut milk, marshmallow root, witch hazel, and peppermint oil, and will gently exfoliate dead skin and heal sunburn at the same time," said Monika Angelini, inventor of the The Original Sunburn Soap.
The first shower after getting burned is a crucial moment in determining how long and painful your sunburn will be. Ingredients in conventional soaps can make your sunburn feel worse. The Original Sunburn Soap is fortified with certified organic, all-natural ingredients that rehydrate and gently exfoliate skin, while decreasing redness, irritation, pain, and peeling.
"Years ago, my mother-in-law asked me to make a soap bar that could help alleviate the terrible sunburn she was suffering from. The combination of ingredients required to make a soap specifically for sunburns was complex and would melt after one use. After seven years of research and experimentation, we can proudly say that this one-of-a-kind soap is finally ready to share with the world. And, the best part is it actually works!" said Monika.
The creation of The Original Sunburn Soap sparked more innovative ideas for after sun remedies, but also raises an important question: What can you do the moment you realize you got too much sun? Enter WILD's After Sun Recovery Spray with Hyaluronic Acid, a powerful rehydrator that's ready to use with instant, on-the-spot results. A spray that will cool the skin, replenish moisture, and ease stinging redness. Using this spray combined with The Original Sunburn Soap, the owner claims that most sunburns can be cut down to one day or less!
"The Original Sunburn Soap and After Sun Recovery Spray are a powerful combination for treating sunburns. The soap is perfect for reducing irritation and gliding on silky smooth during that first shower. The recovery spray builds on the benefits from the sunburn soap, providing hydration and healing," said Monika.
Wild Organic Skincare finely handcrafts organic skin care products from scratch. Everything from the formulas, to making the soap, to the custom labeling and packaging, is all done by hand. After 10 years, WILD Organic Skincare continues to innovate new products and strives to be the leader in affordable organic skin care.
Monika and Brandon can comment on the following hot topics:
Why The Original Sunburn Soap and Forever Summer skincare line are different from anything on the market.
How their soaps and skincare products are made to treat different skin types.
Why conventional soaps and skincare products rarely contain 100% transparency about their ingredients, source, sustainability, and overall quality, and why skincare packaging and ingredient lists are too often convoluted and confusing.
Why going natural is better.
The challenges and opportunities of being a woman-owned start-up and what Monika would tell other women interested in pursuing their entrepreneurial dreams.
For more information click here