MEET WILDFARE: WILDLY IRRESISTIBLE MEDITERRANEAN FARE TAILOR-MADE FOR THE AMERICAN KITCHEN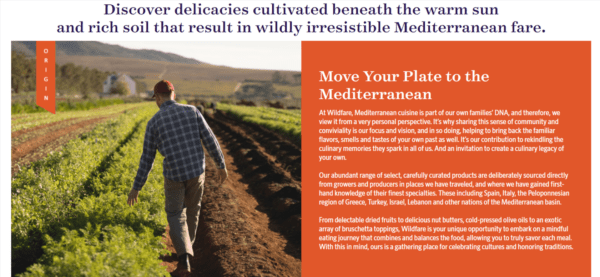 Harvested from ancestral fields, made from historic recipes
Healthy and clean from crops to cuisine, Wildfare cultivates farm-fresh produce grown beneath the rich, Mediterranean soil and warm sun in ancestral fields that have been tended for generations. Each one-of-a-kind product comes from heritage recipes that create nutritious and wildly irresistible Mediterranean fare perfect for the American pantry. From cold-pressed, pure olive oils (with one even bottled specifically to inspire young palates to enjoy healthy food) to juicy semi-sundried tomatoes to beetroot pastas and orange-stuffed olives, you haven't tasted the Mediterranean until you've tasted Wildfare.
"With our roots in the lush Mediterranean region and our company headquarters in the US, Wildfare prides itself on honoring the simple, exquisite culinary history of our ancestors while innovating convenient ways to preserve and deliver the same abundantly fresh flavors to people's kitchens. While encouraging Americans to eat well, we are also dedicated to empowering female growers and makers to succeed and pass their invaluable knowledge on. Together, we make magnificent products and memorable meals," said Melissa Clemente, Wildfare's Creative and Marketing Director.
Some of Wildfare's unique products grown by heritage farming practices and crafted from historical recipes include:
Wildfare Olive Oil for Children: Helps and inspires children to acquire a taste for healthy Mediterranean food early on with their starter olive oil.
Wildfare Orange Stuffed Olives: Dirty with a twist! Wildfare orange stuffed olives wow in all kinds of recipes from salads and mezze to cocktails and canapes.
Wildfare Ajvar: This eggplant and roasted red pepper Ajvar recipe was perfected with the input of 100 Macedonian grandmothers before becoming an American pantry staple that can be used as a sauce, spread or dip.
Wildfare Shatta Mediterranean hot sauce: The next fiery menu must-have curated from traditional recipes.
Wildfare Organic & Vegan Pastas: Available in black carrot, spinach, tomato, sweet red pepper, olive or the band's best-selling beetroot, Wildfare makes a unique plant-based fettuccine that adds color and nutrients to simple pasta dishes.
Wildfare Bruschetta: A collection of incredible recipes all ready to go— the making of an authentic Bruschetta bar for your next American holiday starts with Wildfare.
Wildfare whole Freeze-dried Produce: The freeze-drying process for Wildfare's fruits and vegetables retains all the taste and aroma of freshly picked produce with 98% of the nutritional value.
Wildfare Semi-Sundried Tomatoes: Wildfare's natural semi-sun-drying process (without all the heat) results in sweet, concentrated cherry tomatoes that literally burst in your mouth with a gorgeously intense flavor!
Wildfare Pistachio Butter: A magical combination of tastes and textures. Sweet and nutty, pistachios are delivered in a creamy texture that also incorporates tiny bits of this favorite among nuts.
Hazelnut Butter with Cocoa: Hazelnut Butter with Cocoa elevates the classic combination universally beloved by children and adults alike. The texture is beyond silky, and the flavor is extraordinary!
Wildfare's unique Mediterranean pantry products are available at select grocery stores nationwide, including Gelson's, ShopRite, Meijers, and Central Market in Texas.
For more information click here