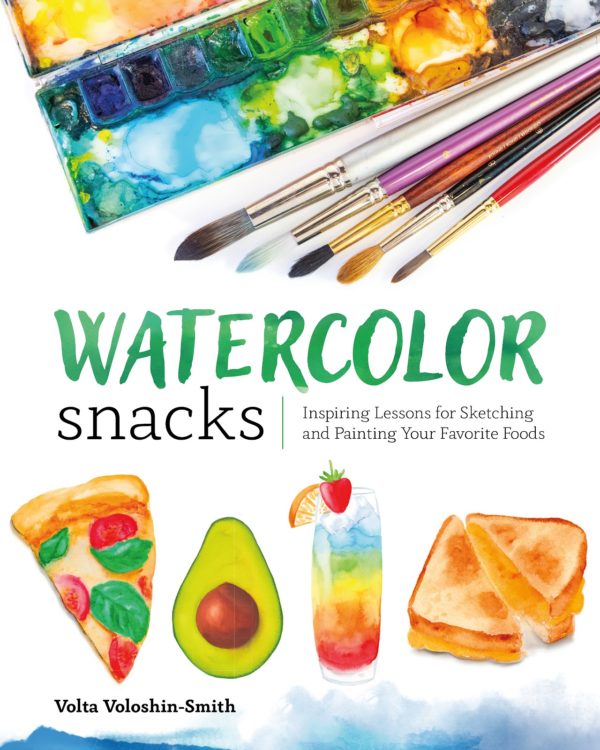 From a syrup-drenched stack of fluffy pancakes and a perfectly golden-brown flaky croissant for breakfast to an overflowing bowl of comforting ramen (complete with egg, meat, mushrooms, and nori sheets!) for dinner and an adorably sweet three-layer frosted strawberry cake for dessert, Watercolor Snacks: Inspiring Lessons for Sketching and Painting Your Favorite Foods [978-1681987156, $24.95, Rocky Nook, July 2021] by Volta Voloshin-Smith details everything needed to create mouthwatering images for every meal of the day.
Perfect for food lovers, beginning artists, and anyone who wants to explore the world of watercolors through easy and accessible prompts and exercises, Watercolor Snacks is a colorful guide that walks you through basic techniques and how to apply them to create beautiful, delicious-looking paintings. Noted artist and instructor Volta Voloshin-Smith shares step-by-step lessons for sketching and painting 35+ foods for breakfast, lunch, snacks, dinner, dessert, and drinks.
Voloshin-Smith, who grew up in Moldova during the dissolution of the Soviet Union before moving to the US in 2002, is the founder of Color Snack, her creative agency where she makes ready-made prints and commissions.
"I love painting foods because it's a way to celebrate people's culture and create community," she said. "My favorite part about food is being able to share a meal with someone else. Food brings people together and I try to celebrate that fact and also the ingredients with watercolor illustrations and animations."
The first of its kind, this book also includes recommended watercolor supplies, basic watercolor techniques, color theory basics, and common watercolor problems and solutions.
Gather your supplies and your favorite snack, and take a bite out of this tasty guide as you create watercolor paintings of your favorite treats!
For more information click here