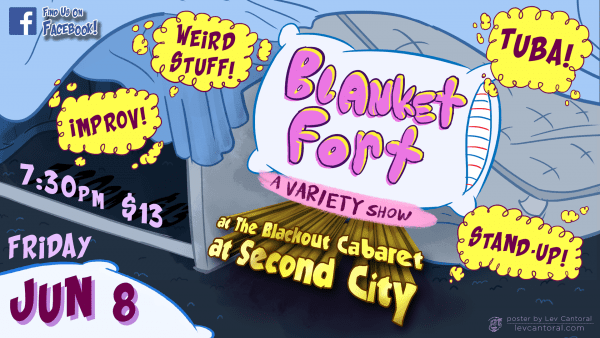 Friday, June 8 at 7:00 PM to Friday, June 8 at 8:00 PM
The Blackout Cabaret at Second City
Blanket Fort is usually a comedy variety show that takes place entirely in a blanket fort–but tonight we're ditching the fort because Second City is letting us perform in their theater for One Night Only! Don't worry, there will still be pillows, blankets, PJ's and even more laughs. It's weird, it's comfy, it's cuddly. It's unlike any other comedy show you've been to.
Hosted and produced by: Elsie How, Brad Rickert, and Max Shanker
With performances by:
Tracie Kunzika playing the Tuba
Thick Meat Boy and the Bone Daddy doing some Improv
Standup from Alice Whatley
Tickets:
$13 Standard
$11 College Student
$7 Training Center Student
For more information click here