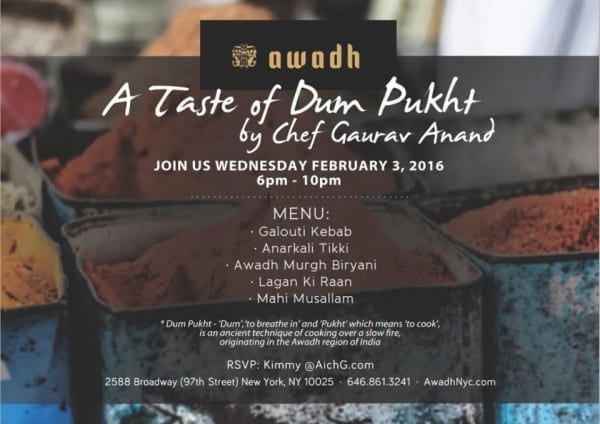 Wednesday, February 3 from 6 to 10 pm
Awadh, 2588 Broadway, New York
Be inspired by the traditions and tastes of India as Awadh brings the Awadhi dinner to NYC!
We invite you to an Awadh experience of A Taste of Dum Pukht by Chef Gaurar Anand. The dinner starts off with a perfectly Dum Pukht-cooked Galouti Kebab along with freshly marinated Anarkali Tikki. We continue on with Lagan Ki Raan, slowly cooked in its own flavorful juices. In addition, the classic Indian dish, Murgh Biryani, will be served with a twist of Awadh's savory spices as well as Mahi Musallan – a favorite at the James Beard Benefit Dinner. Come explore unique flavors and good company!
MENU:
Galouti Kebab – minced lamb patties seasoned with various spices
Anarkali Tikki – marinated pieces of meat or vegetables
Awadh Murgh Biryani – mixture of delectable grilled chicken and rice
Lagan Ki Raan – marinated leg of lamb, Dum Pukht style
Mahi Musallan – Dum Pukht cooked turmeric & masala wrapped fish filet
For more information visit awadhnyc.com