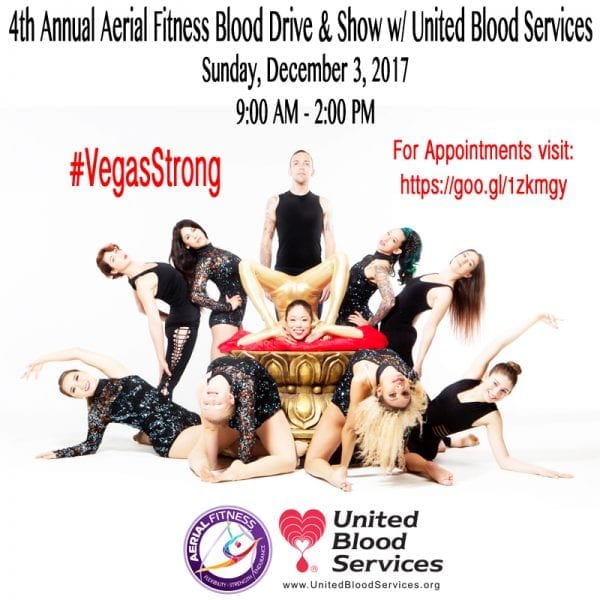 Sunday, December 3 at 9:00 AM
City Athletic Club United Blood Services Bloodmobile 7980 W. Sahara Ave. Las Vegas
Las Vegas artists unite to raise blood at the 4th annual Aerial Fitness Blood Drive with the United Blood Services.
Aerial artists, contortionists, singers, belly dancers and other performing artists will all come together to perform in Aerial Fitness's show "Vegas Strong". Aerial Fitness will host a community Blood drive on Sunday, December 3, 2017 from 9 a.m. to 2 p.m. with the United Blood Services (UBS) of Las Vegas at City Athletic Club. Shows will start every hour from 10:00 a.m. to 2:00 p.m.
Kristi Toguchi, owner of Aerial Fitness, is hoping to raise awareness and support the blood needs in the valley by hosting a Community Blood Drive in Loving Memory of her father, Mr. Terry Toguchi.
Toguchi said "After my father passed away, I discovered that he was inducted into the Hawaii Blood Bank Wall of Fame for donating blood 142 times. Since then, creating awareness of the importance of blood donations has been a passion of mine. In my lifetime, I hope to honor him by multiplying this number by at least 10. In the recent tragic events here in Las Vegas it was a beautiful to see how many people went out of their way to donate blood to help save lives. I look forward to keeping this idea of #VegasStrong alive! And I hope you will all join me."
All donors will receive a $10 Karma Athletics Gift Card, and be entered into a raffle with prizes from our
sponsors, and Aerial Fitness and friends will provide fun and free entertainment throughout the day.
As Southern Nevada's community blood provider, United Blood Services relies on blood donations to
make sure blood is readily available for anyone in need. UBS currently has a need for ALL blood types,
especially O-Negative blood. O-Negative is the universal blood type and the only type that can be
transfused to patients with different blood types.
Donors are encouraged to make an appointment to give blood by calling (702)233-9620 or online at
www.unitedbloodservices.org and enter Sponsor Code: AERIAL FITNESS. You can also contact Kristi
Toguchi at (702)886-2250 for more information.
About United Blood Services of Las Vegas
Founded in 1963, United Blood Services of Las Vegas, a non-profit, 501 (c)(3) organization, provides blood and blood products for hospitals in Southern Nevada, California and Northern Arizona. Its programs exist to make a difference in people's lives by inspiring individuals to donate blood, producing a safe and ample blood supply, advancing cutting-edge research and embracing continuous quality improvement. The United Blood Services network is one of the nation's oldest and largest non-profit blood service organizations, and is a founding member of America's Blood Centers and the American Association of Blood Banks. Nationally, United Blood Services serves more than 500 hospitals in 18 states, contributing to more than 25 million people. For more information, visit www.unitedbloodservices.org.
About Aerial Fitness
Aerial Fitness School was founded by 3rd generation performing artist, Kristi Toguchi. Located in the City Athletic Club in Summerlin, the school offers beginning through professional classes including: aerial fitness, aerial acrobatics, and flexibility. Aerial Fitness School alumni have reached their dreams of becoming professional performers and it is their mission to inspire artists in Las Vegas and beyond. Aerial Fitness is dedicated to providing performing opportunities for future artists and sponsoring events that impact the local community. Aerial Fitness provides classes and entertainment for local charities and events. For more information, visit www.Aerial-Fitness.net.