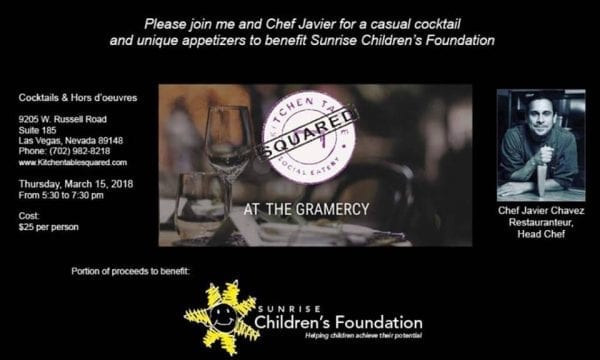 Thursday, March 15 at 5:30 PM
Kitchen Table Squared 9205 W. Russell Road #185, Las Vegas
BE SOCIAL FOR A CAUSE! Chef Javier Chavez presents a casual night of passed appetizers and 2 specialty cocktails (Blackberry Bramble & Cucumber Sunrise) for only $25 per person on Thursday, March 15, 5:30 pm to 7:30 pm with a portion of proceeds to benefit Sunrise Children's Foundation. Special performance by vocalist Nieve Malandra!
Tickets available at the door. Kindly RSVP as we have a max capacity for this event.
For more information click here