STABLE: The Keys to Heaven on Earth, by April Michelle Lewis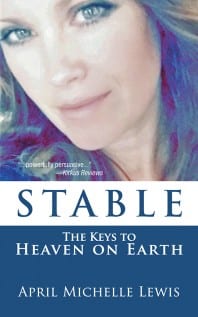 STABLE: The Keys to Heaven on Earth offers a new and different message as religious barriers are broken down. STABLE is defined by author April Michelle Lewis as Sound, Thought, Always Believe, Life of Excellence—truly the keys to experiencing heaven on earth.
For thousands of years, humankind has envisioned a peaceful world. Peace can be obtained. It is not impossible and is, in fact, well within our reach. Various scientific studies support the existence and the true nature of God and heaven. When these discoveries are applied to our lives, it launches us all toward an existence that God has intended for us here on earth.
"…heartfelt book …involving, and passionate …her account of her own personal journey from confusion to the clarity of her STABLE philosophy has a powerfully persuasive narrative quality …enthusiastically conceived and readable breakdown of principles for embracing an upright …life."
For more information click here