A 'Hat Off Beaujolais' Soiree and Dinner on National Beaujolais Nouveau Day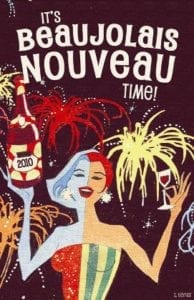 Thursday, November 21 from 7:00 PM to 10:00 PM
L'Auberge Chez François, 332 Springvale Road, Great Falls, Virginia
"BEAUJOLAIS NOUVEAU EST ARRIVEE !!!! – Beaujolais Nouveau has arrived and with it the promise of a wonderful new 2019 vintage.
Join Chef Jacques and team, and Boissett's Export Director, Neil Ruane (aka Napoleon) in our very first ever Beaujolais dinner and discover the region's hidden treasures .
Chef Jacques has prepared the perfect fall pairings – This experience could change your view of the gamay grape forever. As always fun, informal and entertaining – stories, singing and above all great food and wine.
All are encouraged to wear a hat in salute to the "Hat's off to Beaujolais" Soiree. Prizes for the best hats, included!
Beaujolais Nouveau Day is a kickoff to the holiday season, happening just before Thanksgiving, giving you a perfect excuse to meet with friends and family and get into the holiday spirit.
Le Beaujolais nouveau est arrivé!" Translation: "The new Beaujolais has arrived!" See you at our lively and delectable celebration! Vive la France!
MENU
Seasonal Canapes
Mommessin Beaujolais Nouveau Rouge 2019
Gratin of Seared Scallops with Butternut Squash Puree
Mommessin Les Grandes Mises Beaujolais Blanc
Classic Organic Whipple Tree Farms Chicken Breast Coq au Vin, Mushrooms and Spetzels
Mommessin Les Grandes Mises Saint-Amour Rouge 2017
Wagu Beef Bavette Steak, Beaujoulais Wine Reduction, Pomme Croquettes
Mommessin Les Grandes Mises Moulin-a-vent Rouge 2016
Château Pierreux Brouilly "Grande Reserve" Rouge 2016
Pear Duo Almond Custard Tarte
Pears Poached in White and Red Beaujolais, Almond Creme
Gilette's Locally Roasted Coffee, Selection of Harney & Sons Fine Teas
$100.00;
excluding tax and gratuity, for a total of $127.00
Tickets non-refundable
We are happy to accommodate guests' dietary concerns, so all may join the festivities.
Please email chezlauberge@aol.com or call 703-759-3800 with special requests
Patrons will have an opportunity to purchase these wines at a very special price this evening.
For more information click here