You Are Not the Father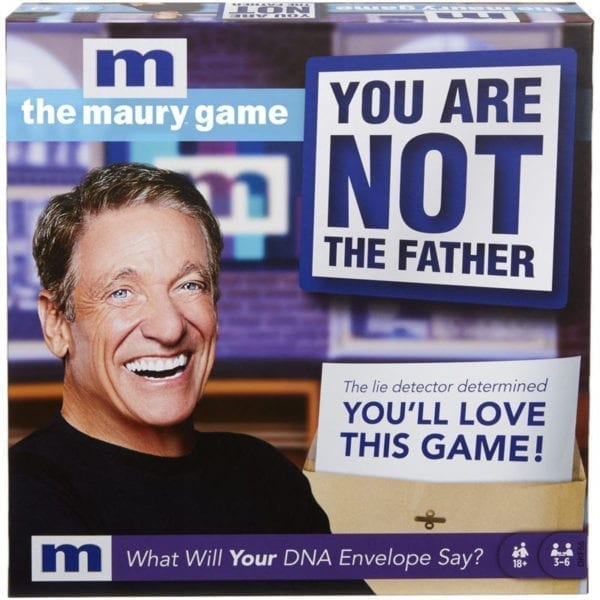 The adult board game "The Maury Show: You Are Not The Father," based on the popular daytime talk show, "Maury" hosted by Maury Povich, is available on Amazon.
The show is known for its compelling relationship drama, family issues, infidelity, and signature paternity tests. "The Maury Game: You Are Not The Father" will allow players to clear their name, "Maury" style, with this hilarious party game for adults. The game challenges players to prove their nonpaternity through a series of outrageous accusations and laugh-out-loud arguments. At the end, a paternity test is "performed" and the "results" lie in each player's Test Results envelope. Play your cards right to increase your odds of innocence and to turn the "Maury" audience against your competitors before the big reveal. Only one will be the father — don't let it be you!
"'You Are Not The Father' celebrates our outrageous guests and the absurd excuses they use on our paternity episodes," said Povich. "The game is fun, funny, and the best part is, there are no real babies involved."
"You don't have to be familiar with the paternity tests on 'Maury' to have a great time playing this game," said Paul Faulhaber, Executive Producer of 'Maury.' "As for our die-hard fans, they are going to absolutely love it!"
"Maury" is executive produced by Paul Faulhaber. "Maury" is distributed in national syndication by NBCUniversal Television Distribution and produced by Stamford Media Center Productions, the same production team behind successful NBCU talk shows including "The Steve Wilkos Show," "The Jerry Springer Show," and the new "Judge Jerry."
For more information click here