World of Chocolate To Be Held Dec. 3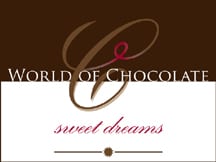 Click here to purchase your tickets for World of Chocolate!
Click Here to check out World of Chocolate's sweet entertainment!
This AIDS Foundation of Chicago (AFC) signature event, held in commemoration of World AIDS Day, features scrumptious chocolate creations from more than 30 of Chicagoland's finest restaurants, caterers, and chocolatiers in an effort to raise awareness, while celebrating the world's achievements, in the fight against HIV/AIDS.
An evening spent at World of Chocolate includes a light buffet, open bar, chocolate martinis, live Jazz music, and a Holiday Bazaar featuring ornaments, purses, and gifts from notable Chicago retailers, as well as Cooking Doesn't Have to be a Drag – an entertaining cookbook that fuses the art of food with the art of drag queens.
Tickets are on sale now! This is an event not to be missed!
Date: Wednesday, December 3, 2008
Time: 6:00 p.m. – 10:00 p.m.
Location: Hilton Chicago, 720 S. Michigan Avenue, Chicago 60605
Ticket Levels
General Admission Ticket – $75
Red Ribbon Ticket – $150
Cocoa Sweetheart Sponsor Ticket- $350
Bittersweet Bliss Tree Sponsor Ticket – $800
Sponsorship Opportunities
With more than 1,700 folks walking through the doors of the Hilton Chicago for World of Chocolate, this event presents a wonderful opportunity to promote your business to the Chicago community! For more information, contact: Chris Matthews, Director of Fundraising Events, at (312) 334-0917.
Vendor Opportunities
Join other prominent Chicago chocolatiers, restaurants, and bakeries to commemorate World AIDS Day with 1,700 prospective clients and guests. World of Chocolate is a tremendous opportunity to promote your chocolate creations and brand! For more information contact: Katie O'Malley, Development Associate, at (312) 334-0935.
Celebrity Judge Awards – World of Chocolate 2007
The Hot Chocolate Award – Calihan Catering
For the altogether tastiest chocolate treat.
The Loco Cocoa Award – Palmer House Hilton & Cook au Vin
For the most creative use of chocolate as an ingredient.
The Sweet Booth Award – Sweet Endeavours & Cook au Vin
For the best presentation of the culinary creation, including table dressing, signage, and decor.
The Chocoholic's Dream Award – Palmer House Hilton
For the most visually enticing chocolate treat.