Short Ribs with Sapporo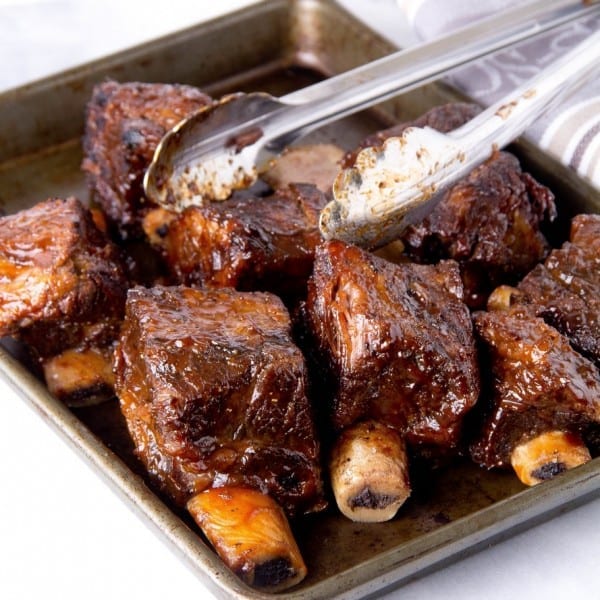 ingredients
3 pounds beef short ribs
2 cups salt
1 carrot, roughly chopped
1 onion, finely chopped
2 stalks celery, finely chopped
1 quart veal, beef or chicken stock
1 pint Sapporo beer
2 sprigs thyme
1 sprig rosemary
5 pieces sun-dried tomatoes, chopped
4 ounces foie gras scraps (optional)
1/4 pound Italian flat leaf parsley, picked and chopped
directions
Day 1: Cure the meat overnight by covering the ribs with a cup of salt. Cover and refrigerate.
Day 2: Remove ribs from salt pack and rinse. Coat a large oven-proof pot with olive oil and lightly sear the ribs over medium heat. Add the chopped vegetables and cook until caramelized. Add stock, beer, thyme and rosemary. The ribs should be covered in liquid; if needed, add water. Cover the pot and bake in the oven at 325 degrees F for about 4 to 6 hours, checking periodically.
When ready, the meat should fall off the bones. Remove and let cool in the liquid. When cool enough to touch, remove the bones, carrot pieces, and thyme sprigs; reserve thyme.
Pick through meat – remove any excess fat or sinew. Strain out the liquid and add to saute pan over medium heat until it reduces to a thick sauce.
Mix the meat with sun-dried tomatoes, foie gras, parsley and sauce; press into a hotel pan and refrigerate overnight.
Day 3: Cut the short ribs into cubes and season with salt and pepper. Sear in olive oil to brown and crisp the edges. Serve.
About Sapporo
Founded in Sapporo, Japan in 1876, a German-trained brewer named Seibei Nakagawa combined his advanced brewing knowledge with his passion for Japanese craftsmanship and created a one-of-a-kind beer. From the beginning, Sapporo was a favorite among beer lovers – a crisp, clean taste they appreciated and an advanced brewing process they respected. Today, Sapporo is the oldest beer brand in Japan.
Sapporo lagers, with their famously crisp and refreshing taste, have been enjoyed by stylish and contemporary, yet selective beer-loving consumers for almost half a century in the U.S. Sapporo Premium was first brought to America in 1964. In 1984, SAPPORO U.S.A., INC. was founded to maintain the high quality and distribution of the brand throughout the country. Soon thereafter, Sapporo established its status as the #1 Asian beer brand sold in the United States. Today, three varieties of the brand (Sapporo Premium, Sapporo Reserve, and Sapporo Premium Light) are enjoyed by beer connoisseurs across the country.
Sapporo beers are made from only the finest natural ingredients and epitomized by a luxurious use of aroma hops & fine aroma hops. The combination of select barley and hops with an extreme attention to quality give Sapporo beers their crisp taste, refreshing flavor, and mild, refined bitterness. Their uniquely shaped silver can represents the distinctive style and flavor one can enjoy from Sapporo beer. Before reaching consumers, Sapporo goes through multiple processes to ensure the quality is at its best. Sapporo scientifically tests gas volume and oxygen levels, and perform a thorough "five senses" test, including smell, taste, color, foaming, and brightness. From quality ingredients to their unique packaging to thorough testing, Sapporo knows how premium beer is made. All Sapporo products sold in the United States are brewed in the La Crosse, Wisconsin and Guelph, Canada.