Make Pizza in your Back Yard! – Californo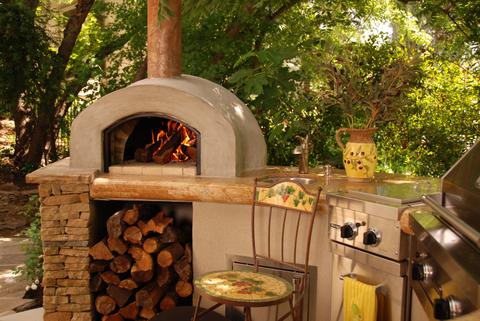 This July 4th celebrate INDEPENDENCE with the best gift you'll ever buy yourself – a wood-fired oven from CALIFORNO! When you aren't getting lost in the hoopla of the holiday, highlight the perfect meal with wood-smoked burgers and hot dogs BBQ-style. Roasted meats, veggies, a whole turkey– if it goes in a conventional oven, Californo has you covered. Prefer portability? Enter the Californo Pizza Oven Trailers! The portable Carrello model comes in three sizes, plus in wood and propane. Dazzle at your next extravaganza with the Garzoni line, which features easy to install wood-fired oven kits with options for custom-tiling to suit your home décor.
This domed oven is US made, handcrafted using traditional Italian methods perfected over centuries. Durable, long lasting with zero maintenance results in higher cooking temperatures that give you a pizza with crispier toppings and delicious flavor! This dome coupled with perfected high temperature concrete mix mimics firebrick in its application. It not only provides substantial savings but also stays authentic to the original form and function.
Whether cooking out by candlelight amidst the fireflies or marveling over the spectacular overhead displays, share slices of homemade pizza with family as rockets burst. Rejoice in the revelry from the simplicity of your own residence with this restaurant-rivaling product. Match the shriek in the sky with the sizzle of fresh wood-smoked steak. Couple the eye popping crescendo with flavor blasted by true wood-fire taste and set your taste buds ablaze! Cause sparks at your next gathering! With your new pizza oven kit you can host your own wood-fired pizza party any time you want from the comfort of your own backyard; with the savings on eating out, it will pay for itself, ten-fold.
C
aliforno crust is crisp, light, and most importantly delicious. Bake breads like a French patisserie with symphonies of crackle – perfectly perfumed smoke-infused crusts. Make memorable times with the whole family, while it melts in your mouth. Might we suggest our recipe for Authentic Vera Pizza Napoletana Dough? Remember, cooking is truly one of life's great pleasures. Buon Appetito!
Bonus: Here's a recipe for pizza dough!
Pizza Dough – Authentic Pizza Napoletana Dough Recipe
INGREDIENTS
500 Gram 00 flour
325 Gram water (65% hydration)
10 Gram salt
3 Gram active dry yeast
INSTRUCTIONS
1. Place all the ingredients in the mixing bowl.
2. Mix the dough ingredients in a stand mixer, or by hand. If you are using a stand mixer, mix it slowly for two minutes, faster for 5 minutes, and slow again for 2 minutes.
3. Cover the dough and let it rise for 2 hours, or until double.
4. Punch it down and push out the air bubbles. Form the dough into a large ball, then cut it into 4-5 equal pieces.
5. To make your pizza balls, shape each piece of dough into a ball. Gently roll your dough into a ball, then stretch the top of the ball down and around the rest of the ball, until the outer layer wraps around the other side. Pinch the two ends together to make a smooth ball with a tight outer "skin." Set your ball seam-side down where it can rest.
6. Dust your pizza balls with flour, and store them under a damp towel, in a proofing tray, or under plastic wrap. That's to prevent the outside of the ball from drying out and creating a crust, and becoming difficult to work with. The top of the pizza ball should be soft and silky.
7. Your pizza balls will need to rest for about an hour to become soft and elastic, so that they can be easily stretched into a thin crust pizza. If you won't need your dough for more than an hour, refrigerate it until you are ready to start.
8. At this stage your pizza balls are ready to be rolled into thin Neapolitana dough using your wooden dough roller.
For more information click here