Limited Edition Chi Box™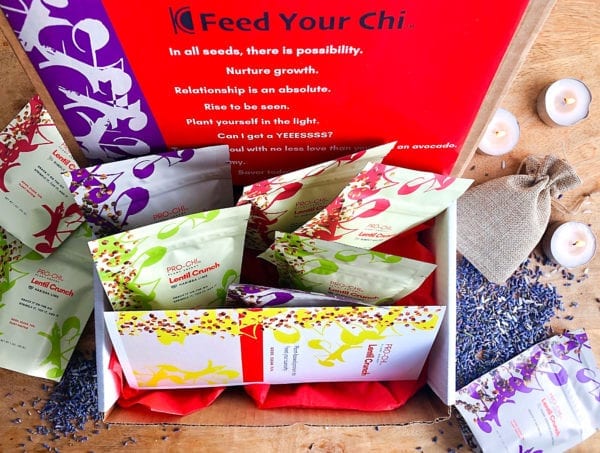 Kim Baker Foods is releasing its new Limited Edition Chi Box™ for the holidays. For less than $25, send someone a sampler of one of the newest healthy snack products on the market with a dose of positivity. For every box sold, Kim Baker Foods will donate a package of Pro-Chi to FeedMore to feed a hungry family in the new year.
The Chi Box includes nine 1 oz. Pro-Chi Lentil Crunch packages in an assortment of flavors including Harissa Lime, Simply Salted, and Dark Chocolate Drizzle, along with three tea light candles and a lavender satchel. Pro-Chi™ Lentil Crunch is a healthy and fun plant-based snack with 7 grams of protein per serving and it's grain free. Pro-Chi can also be used to add texture, nutrition and flavor to foods such as salad, yogurt, smoothie bowls, and more. Chi Boxes are available for $24.99 on www.kimbakerfoods.com/shop and Amazon until December 31st or until supplies last.
Using its passion for food as a vehicle for positivity has been core to the mission of Kim Baker Foods. "The Chi Box is an awesome holiday gift for anyone and it pays it forward to a family in need," said Kim Baker, founder of Kim Baker Foods. "We believe it's important to celebrate the holiday spirit with inspiration and generosity."
Kim Baker Foods (www.kimbakerfoods.com) celebrates food that nourishes people, their communities, and the world around us. Pro-Chi™ is a unique plant-protein snack that makes clean eating fun and accessible. Pro-Chi™ Lentil Crunch Snacks and Protein Toppers are sold at www.kimbakerfoods.com and Amazon, as well as at select retail locations. Founder Kim Baker has cooked live on the TODAY Show with Kathie Lee and Hoda and has been featured in numerous media outlets including Virginia This Morning, FOX Business News, the Richmond Times-Dispatch, Newsday, and others.
For more information click here