Have A Taste, Not A Bite
The battle of the food festivals continues July 17th-19th as the Kirkland Waterfront takes on the Seattle Center. With an onslaught of art, style and taste, Kirkland Uncorked is ready to show the Westside how the eastside does a three-day summer celebration.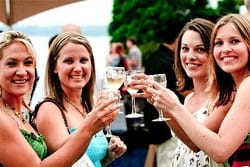 Over 60 Washington Wines to Taste
ART
Beginning Friday, Kirkland Avenue, and Marina Park will transform into Artists' Lane, showcasing over 60 of Northwest Art Alliance's Best of the Northwest artists. After strolling through Artist Lane, guests can put their newfound inspiration to use and stop by the "Arts for All" exhibit in the Kirkland Uncorked Promenade. The exhibit includes clay throwing demonstrations, drawing activities including a still-life model, kids' art activities and watercolor demonstrations. All kinds of artists are welcome from the fledgling doodler to the accomplished artiste.
STYLE
Kirkland Uncorked will showcase some of the newest lifestyle designs hitting the Pacific Northwest. Visit the Seattle Homes and Lifestyles Pavilion where lifestyle presentations from landscape to interior design will be displayed. Sounds of the area's top jazz musicians and bands from Pony Boy Records will fill the Marina along with the tunes of 98.1 Classical King FM will resonate throughout the waterfront.
After exploring luxuries on land, head seaward toward The Boat Show. Experience the floating life of luxury in the lavish collection of yachts presented by the Seattle Boat Show. Guests will also have the opportunity to tour the historic Lady Washington Tall Ship making Marina Park its port for the weekend.
TASTE
Indulge your palate with over 60 wines from 20 Washington wineries in the Tasting and Lifestyle Garden. Afterward, visit The Grape Choice Wine Shop featuring bottles and cases of the varietals featured within the event. Need a break from the grapeä Visit the Henry Weinhard's Beer Garden, pouring premium brands of Belgium Wheat, IPA, Private Reserve, and more.
To top off the tasting experience, guests are invited to sample some of the Pacific Northwest's finest restaurant samplings. Witness the talent of Washington's top chefs in a heated grilling competition.
Visit www.kirklanduncorked.com to learn more about Washington's signature summer festival and discover Kirkland's vibrant community at Kirkland Uncorked.