The Best Brunch In The World
Surprises are hidden at every crook and nanny of Lacroix. As soon as you walk into the curved entrance, it's hard to fathom the delectable delights that await you at every turn. An extremely hospitable maitre' de seats us at the very back (we have a nosy five-year-old chef-to-be in our party) and as soon as you begin to scan the menu, you know you are in for a once-in-a-lifetime-treat.
Our waiter (Irish, blue eyes, charming, reserved yet very knowledgable about the wine) suggests we walk around the restaurant to get acquainted: there are little surprises everywhere, like an Easter treasure hunt. There's a well-laid out table upfront with what appears to be miniscule-yet-succulent tapas-like portions of healthy appetizers, from sushi to mint-size chicken fingers. Next to it, a table with chilled oysters – and hugging the entrance, a full bar of Sunday assortments that spell Bloody Mary. In the middle of the restaurant galley, there's some mouthwatering desserts and then comes the surprise: A stroll inside the kitchen, where the chef has laid out the spoils: an endless bevy of beauties for appetizers. And before you make your way back to your table, some hidden jewels around the beaten path: ice cream.
So, in a twist of a Brunch, as you make many detours and U-turns, you'll find yourself coming back for more.
We've been to way to many "sitting duck" brunches where you find a freshly-woken sous chef manning a kitchen station flip-flopping omelettes with the usual would-you-like-any-other-topping-with-that-attitude.
Not here. This place is cool as a cocumber when it comes to laying out the surprise that's in store for you and the place lets you be you.
So, without further ado, let's just unravel the brunch.
Pictures, as they say, convey a thousand words. Or, in this case, a thousand small appetites:
Our "tasting" plate
Portrait
Belgian Waffles with Fresh Mixed Berries
Heirloom Tomato "Bruschetta" with Lobster Hollandaise
Coddled Quail Egg, Smoked Trout Roe
Lemons and Limes
Fresh garnish
Bloody Mary Bar
DSC06758
Bloody Mary Bar
Jumbo Shrimp with Cocktail Sauce
Sushi Maki
House Smoked Salmon
hors d' oeuvres (and then some)
Building a house of chocolate…
Orange vanilla pot de creme
Mystery treat
Coffee Profiterole
I don't remember this one.
Carrot cake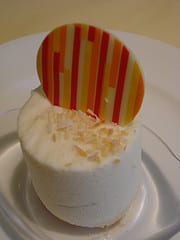 The Liquid Nitrogen Station
The Chocolate Fountains
Coffee Profiterole
Banana Walnut Cheesecake
Rice Pudding and White Chocolate Mousse
Chocolate lemon basil creme
Flourless Chocolate cake
Tiramisu
Desserts from the Garden table
Experience Lacroix at the Rittenhouse. To request more information or reserve your table, call (215) 790-2533, email Ed Wildman at ewildman@rittenhousehotel.com with questions, or click here for online reservations.