Cocktails for Camp 2019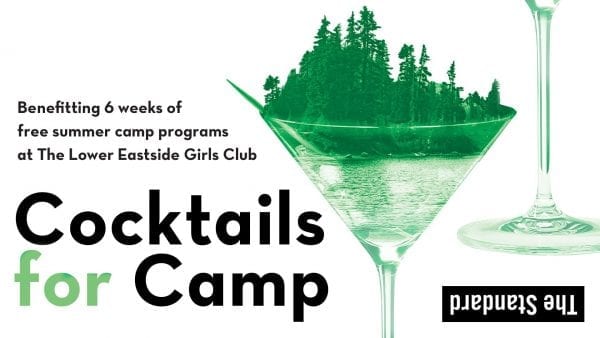 Friday, July 12 from 7:00 PM to 11:00 PM
The Standard, East Village 25 Cooper Square, New York
Summer Programs at The Lower Eastside Girls Club
Our summer programs always explore a cool theme from a multidisciplinary perspective while having an amazing time! This year, our Middle School members are completely mapping it all out as part of our "City Mouse / Country Mouse" program. From coastal resiliency mapping to body mapping, this project will interconnect the art and science of map-making through documentary films, podcasts, animations, art, and poetry. Our High School members are focusing on business planning and marketing to promote their very own fashion and home goods designs, which they will showcase at our fabulous Girls Club summer fashion show.
Sleepaway Summer Camp
Engaging with nature is a critical part of our mission to cultivate "the next generation of entrepreneurial, environmental and ethical leaders." Every summer, we take our members far away from the city to spend a week surrounded by the natural beauty of the Adirondacks. In the words of one young member: "There is no pollution here, and we can stay away from our screens and our phones. So we just connect through love, for a week"
"People don't realize that the earth doesn't belong to us, we belong to the earth." —Girls Club member, age 13
Cocktails for Camp is brought to you by the Girls Club Angel Alliance junior board.
Event Chairs: Emily Frost and Rachel Roderman
For more information click here