Storming the Bastille Celebration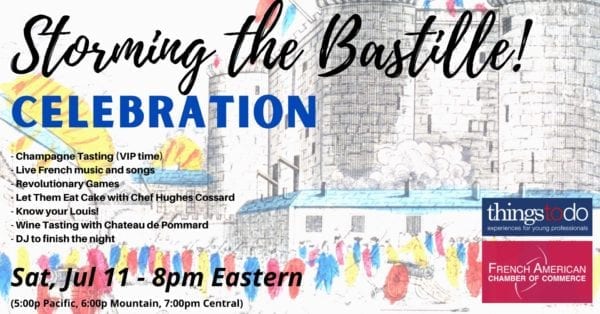 Saturday, July 11 from 8:00 PM to 11:00 PM
French-American Chamber of Commerce – Washington DC 4101 Reservoir Rd NW, Washington D.C.
Celebrate the storming of the Bastille on Bastille Day with French music and singers, French food, a wine tasting, games, and a history presentation about the French Revolution.
On Saturday, July 11th, bring the Champs-Elysees celebrations into your living room with a very interactive cultural experience and celebration!
The Spirit of Bastille Day comes alive with a multi-faceted party that will offer you live French music, a cooking class, a wine tasting, background videos, and a top DJ who will make you dance on the latest French and US hits!
Plus, we will break out interactive rooms for a short session during the evening to offer some special French one on one interactions and experiences with your fellow revelers!
– Champagne Tasting (VIP time – starts at 8:pm)
– Jennifer Bergamot-Rose sings classic French songs
– French wine tasting with Jordan Lynn Traylor of Chateau de Pommard
– Live French music with Jeremy Lodeon
– Let Them Eat Cake with Chef Hughes Cossard
– Special Guest: Louis XVI (complete with his head on his shoulders…)
– Know Your Louis! A history specialist tells you why the French revolted.
– Breaking Rooms
– Let's celebrate: Finish the night with a DJ spinning French and American hits!
For more information click here