Celebrate National Prosecco Week with Mionetto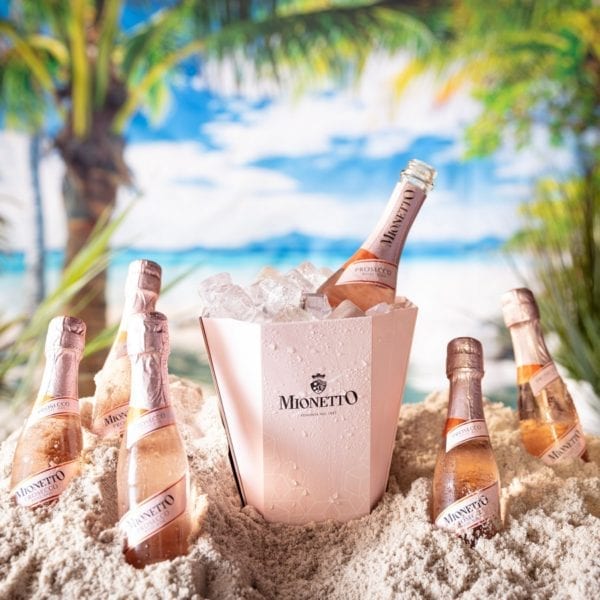 Sunday, July 18 to Sunday, July 25 is National Prosecco Week
For Mionetto, prosecco is Champagne in Blue Jeans.
The Prosecco DOC Consortium, the Italian government entity that oversees the production of the world's most popular sparkling wine, has just announced 'National Prosecco Week' will return for its 4th annual celebration next month. This year is particularly noteworthy as it's the first time Prosecco enthusiasts can enjoy the recently launched new Prosecco DOC Rosé wine category that recently debuted in the US.
Those wanting to revel in the weeklong festivities can toast with Mionetto Prosecco Rosé DOC ($15), one of the first Prosecco Rosés to hit the US market and available nationwide. Incredibly unique, the new Prosecco Rosé uses a new blend of Glera (the Prosecco grape) and Pinot Nero. The Glera offers lightness and elegance along with minerality and citrus flavors combined with the Pinot Nero body, which offers structure and flavors of cherries and strawberry- the perfect pairing for poolside drinks and summer grilling. Available for order on Amazon with 1-hour delivery, GoPuff with 30-minute delivery and Drizly.
Other essentials to celebrate National Prosecco Week with Mionetto include:
Mionetto Prosecco DOC Treviso Brut is the classic rendition that consumers know and love. This sparkling wine has a luminous straw yellow hue, an emphatic yet stylish mousse and aromatic notes of golden apple, white peach and honey with a dry finish.
Mionetto's Party Pack (Set of 4) mini bottles are ideal for outdoor gatherings or picnics with friends. The individualized portions allow you to forgo the stemware, instead opt for a paper straw for simple sipping. Available in both Prosecco Rosé DOC and the classic Prosecco DOC Brut.
Mionetto's Chiller Box, available for Prosecco Rosé DOC and Prosecco DOC Brut, is like a pop-up party you can take anywhere. Keep your prosecco perfectly chilled with a convenient and insta-worthy ice bucket design.
Mionetto Prosecco DOC Organic, A sparkling Prosecco with a persistent perlage, it merges delicate fragrances of acacia blossoms and strong tastes of golden apple, pineapple and orange.
Mionetto Prosecco. A great way to bring bubbles into your everyday life. Celebrate life's little pleasures.
For more information click here