Casa di Amore Big Game Party at Westgate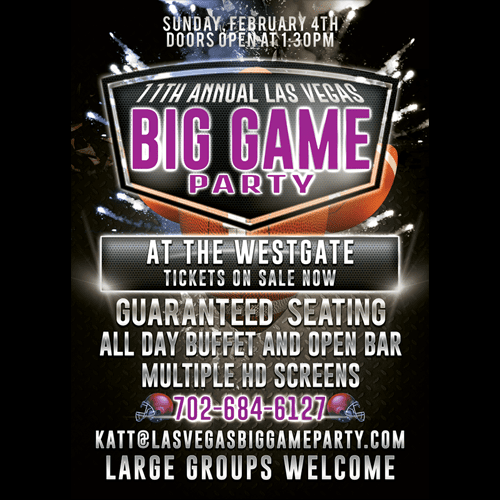 Sunday, February 4 at 1:00 PM
Events Center at the Westgate Resort, 3000 Paradise Road, Las Vegas
This is our 11th Big Game Party and we're happy to announce again, that our pricing has not increased this year. This is the biggest, best party for Super Bowl viewing in Las Vegas at the best price.
Our party is held in the Events Center at the Westgate Resort, 3000 Paradise Road. Formerly, the Las Vegas Hilton.
To view last year's party, click here: https://www.youtube.com/watch?v=_o2sGBLR9Ho#action=share
Open bar including beer, wine and branded liquor featuring Captain Morgan, Dewars, Smirnoff, Cazadores, Bacardi, Jack Daniels, Beefeater, and Korbel.
Draft beer includes Bud, Bud Light and Shocktop.
All day buffet includes penne pasta, Italian subs, mini Philly Cheesesteaks,
Chicken fingers, fresh veggies, Texas Spicy Hot Links and hot dogs, Greek Feta wraps,
chip and pretzel snacks, desserts and a
couple of sweet popcorn machines for that real stadium smell!
Each guest receives a raffle card with 25 tickets attached to put in for great raffle
Tickets are $170 TOTAL for EARLY BIRD purchases, including ticketing fee, tax and gratuity. That gets you guaranteed seating, open bar, all day buffet, 25 raffle tickets and spectacular viewing! There is plenty of seating and the viewing and sound are fantastic!
For more information or to purchase, please call 702-684-6127 anytime between 8am and 8pm PST, seven days a week.
For more information click here