3rd Annual People's Hanukkah Party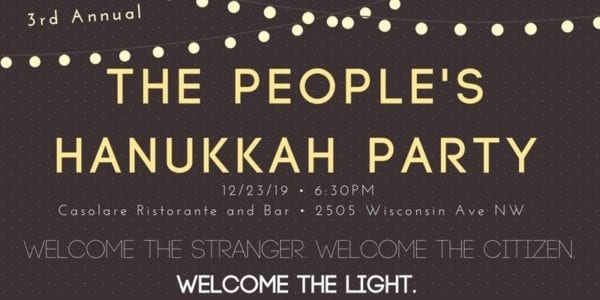 Monday, December 23 from 6:30 PM to 9:30 PM
Casolare Ristorante + Bar | 2505 Wisconsin Avenue NW, WDC
Join Casolare Ristorante + Bar for the 3rd Annual People's Hanukkah Party!
Come celebrate the festival of lights, rededicate yourself to building a better world and get your nosh on! This year's event is hosted by Chefs Alex Levin and Ed Scarpone from the Schlow Restaurant Group and The Micah Storefront Project on Monday, December 23 from 6:30-9:30pm at Casolare Ristorante + Bar (inside the Kimpton Glover Park Hotel) for an evening of lights, latkes, and libations. The annual celebration and party features classic, traditional dishes along with some delicious surprises from Tico, The Riggsby, Nama and Alta Strada. Bonnie Benwick, Former Deputy Food Editor, The Washington Post is making her famous apple sauce – critical for our latkes. Our cash bar will be stocked and ready with lots of great drink specials.
Whether it's babka, latkes, Manischewitz sangria or selections from our tasting stations, you will leave very satisfied!
For more information click here