Wine and Brews at the District – Green Valley Ranch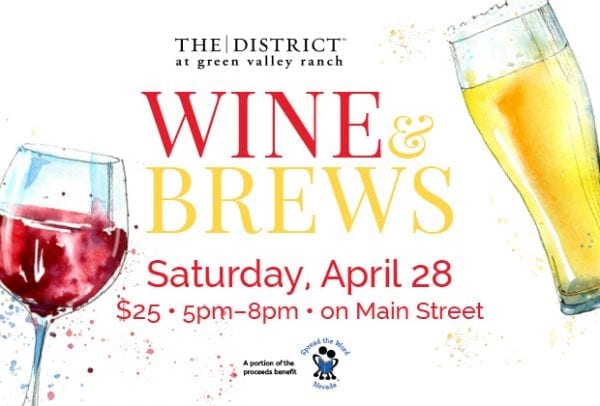 Saturday, April 28 from 5:00 PM to 8:00 PM
The District at green valley ranch, 2225 Village Walk Drive, Henderson, NV
Join us for an evening of great Wine, Beer and food, as we support a great cause- Spread the word Nevada.
Saturday, April 28, 2018
5:00 PM – 8:00 PM
Located on Main Street.
Tickets are $25 and can be purchased at https://wineandbrews.bpt.me/
21 and older only.
The particpating restaurants will be:
Lucielle's Smokehouse BBQ
King's Fish House
Balboa Pizza Company
Me Gusta Tacos
Crazy Pita
Bella Vita
P.F. Chang's China Bistro
Shake Shack
Elephant Bar
Spread the Word Nevada is a children's literacy nonprofit, 501 (C)(3) corporation, dedicated to advancing early childhood literacy by placing books into the hands and homes of children within Southern Nevada's at-risk, low income communities. While developing a love of reading, these libraries promote future academic achievement and self-confidence, which impacts lifelong success.
Since 2001, Spread the Word Nevada has distributed more than 3.3 million gently used and new books to more than 420,000 low-income youth in Southern Nevada.
For more information click here