VIP Rooftop Party – NYC Pride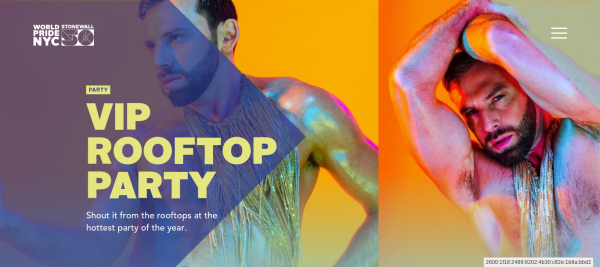 Saturday, June 29 from 2:00 PM to 10:00 PM
The Park, 118 10th Ave, NYC
NYC Pride proudly presents the ninth anniversary of the VIP Rooftop Party!
Dance on an exclusive rooftop venue during the best weekend of the year! This is one of the official Saturday afternoon events of NYC Pride, the largest Pride week in the nation.
NEW VENUE ALERT: We've outgrown our original venue for VIP Rooftop Party and we're excited to announce our move to The Park for this epic party.
With DJ sets by DJ GRIND, DJ Toy Armada, DJ Ben Baker, and DJ Kitty Glitter.
Get your tickets early to make sure you're a part of one of the largest fundraisers for NYC Pride.
VIP Rooftop Party serves as a fundraiser to help NYC Pride raise crucial funds to help produce a multitude of free events such as our new Youth Pride, Family Movie Night, PrideFest, The March, The Rally and many more!
For more information click here