The Hamptons Hamper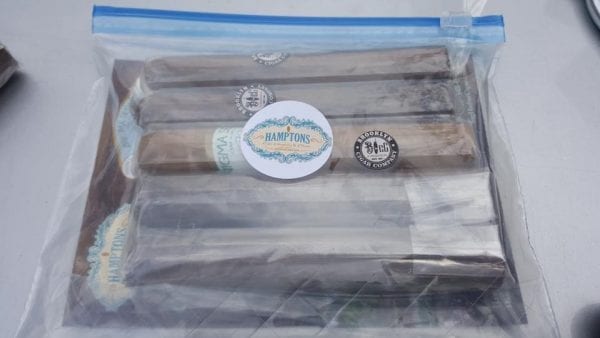 This is a very exclusive 5-Pack from Hamptons Cigar Manufactory and Museum.
It includes:
– 1 Sag Harbor "Enigma" Segar (mild-medium)
– 2 Brooklyn Cigar Co "Wedding" Cigar (mild)
– 2 BridgehamptonCigars "George Arents" Timeless (Full-bodied, Robust, Strong)
– Literature on Ordering other Hamptons Cigars
– A special invitation to have Cigar Roller at your private event
Only 25 Packs have been created. We are always adding more surprises to this Hamper, such as complimentary cigar cutter and lighter as and when available at no additional charge.
As always, shipping within US is First-Class and FREE! Ships within 24 hours after order placed weekdays and arrives within 2-3 days by postal service.
The Brooklyn and Bridgehampton cigars are made in very small quantities and the cigar ring is old school on the packaging. It comes air-tight packed from the factory directly to you!
Once you purchase the Hamptons Hamper you automatically get invited to our exclusive Soirees in the Hamptons and Manhattan and most times there is no charge to attend. These events are only reserved for boxholders or bundle purchasers of the Enigma but if you purchase this Hamper we make an exception and invite you because just like the Hamper, you too are special!