Sweeten Holidays 2021 with Chocolates by Delysia Chocolatier!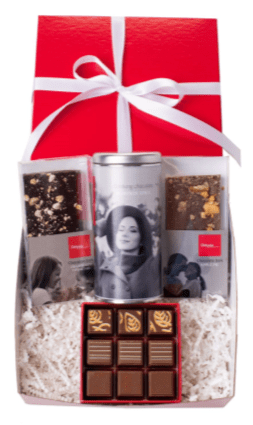 Thanksgiving gift box
Give great thanks
Our Thanksgiving gift box is a collection of inspired chocolates that is the perfect gift for any hostess during the holiday season.
The Autumn collection chocolate truffles includes 3 decadent flavors of balanced spices in apple cider, roasted local pecans in pecan pie, and pumpkin with mulling spices in pumpkin spice for perfect rendition of Fall. Enjoy the warmth of pumpkin and a blend of spices for the perfect Fall evening with our Pumpkin spice drinking chocolate. The aromatic notes of cinnamon, cloves, and nutmeg blended with pecans and dried apples are sure to awake your senses with our Apple pie chocolate bark. The tart pieces of dried cranberry and the crunch of the pistachio makes for the perfect sweet and salty bite in our Cranberry pistachio bark.
Give thanks this season with the following:
Autumn collection chocolate truffles
Pumpkin spice drinking chocolate
Apple pie chocolate bark, 3oz
Cranberry pistachio chocolate bark, 3oz
======================
Thanksgiving hostess collection chocolate truffles, 16pc
Gracious gifting
Thanksgiving is a time for reflecting upon all we're grateful for in our lives. It's also a time for giving to those we love. Just in time for the holidays, Delysia Chocolatier has made it possible to do both with the creation of its Thanksgiving hostess truffle collection, a selection of 16 original truffles inspired by the favorite flavors of a classic American Thanksgiving dinner.
Elegantly packaged, our Thanksgiving hostess truffles are a delicious way to express thanks for all the labor and love that go into the preparation of an elaborate holiday meal. Classic Thanksgiving dishes such as sweet potato casserole, cranberry sauce, caramelized stuffing and apple pie are all mouth wateringly delicious on their own – but just imagine savoring these traditional treats surrounded by an encasing of gourmet chocolate. Taking advantage of freshly harvested ingredients and rich flavors of autumn, these timely truffles are certain to earn the thanks of your hostess and her guests.
This Thanksgiving-inspired 16-piece truffle collection contains:
4 Sweet potato casserole chocolate truffles
4 Cranberry sauce chocolate truffles
4 Apple pie chocolate truffles
4 Caramelized stuffing chocolate truffles
======================
Autumn harvest collection, 9pc
From hayrides to pumpkin pies … Fall has arrived
Surround yourself with the intensely warm hue created by the breathtaking rust and golden colored leaves dancing along the ground while the sound of the brisk wind whistles in the distance. Hay-littered fields are speckled with earthy orange pumpkins, creating the perfect landscape for a family trip to the local farm. From endless pumpkin patches to immeasurable corn mazes to picturesque outdoor scapes brimming with abundant crops, Fall has finally arrived!
Experience the flavors of autumn with a unique assortment of chocolate flavors capturing the feeling of crisp days and bountiful harvests. From the warm scent of baking spices wafting from a pumpkin pie to the joy of making beloved savory dishes like fried chicken, this collection features the classic elements of an autumn spent with friends and family.
Discover the satisfying fusion of savory and sweet in our Caramelized stuffing chocolate truffle, blending rich semisweet chocolate with thyme and sage providing strong herbal notes at the forefront and a hint of earthiness lingering on the finish. Delicate hints of rosemary caramel linger throughout each creamy bite. Savor the zesty flavor of our Orange cranberry sauce chocolate truffle permeated with orange zest, nutmeg and Tawny port blended into rich bittersweet chocolate. A pop of tartness reveals itself in the form of a piece of dried cranberry balanced in the center. Bring a bite of nostalgia to your day with our Apple pie chocolate truffle, with silky milk chocolate enhanced with mulling spices for a tender spiced tickle in the back of your throat. A piece of apple in the center will bring you back to memories of warm pie baking in the kitchen before the big family meal.
A limited number of our Autumn Harvest collections have been curated for the season – only 50 boxes have been handcrafted for the 2021 fall season.
This exclusive autumn inspired 9-piece chocolate truffle collection contains:
1 Spiced chai chocolate truffle
1 Caramelized toffee cheesecake chocolate truffle
1 Apple pie chocolate truffle
1 Butterscotch mocha chocolate truffle
1 Candied pumpkin chocolate truffle
1 Fried chicken chocolate truffle
1 Cranberry sauce chocolate truffle
1 Pomegranate mint chocolate truffle
1 Caramelized stuffing chocolate truffle
======================
NEW! (Gold chocolate version)
Turkey molded chocolates
Flavorful addition to your Thanksgiving feast
Give your guests another reason to be thankful. Add Delysia Chocolatier's Turkey molded chocolates to your menu and share the rich bounty of the season with loved ones and dinner guests.
Three ounces of our creamy, sweet chocolate are carefully handcrafted into this classic symbol of the autumn season. Our freestanding, solid Turkey molded chocolates make a unique gift for your Thanksgiving host, the perfect seating placeholder, or an interesting element to an elegant fall table display. Your guests may be too stuffed to enjoy them by the end of the meal, so send them home with our Turkey molded chocolate to enjoy another day.
This special treat from our Molded Chocolate collection is available in the purest white, dark, or milk chocolate – but only for a limited time during the Thanksgiving season.
This adorable and festive place setting is available in the following flavors:
Gold chocolate
White chocolate
Milk chocolate
Dark chocolate
For more information click here