Spring Fling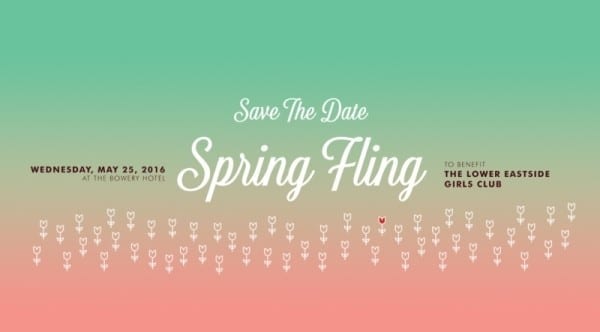 Wednesday, May 25 at 7 pm (VIP 6 pm; after-party 9 pm)
The Bowery Hotel,
335 Bowery, New York
Varsity Ticket – $325 – Drinks, Dinner, Auction and After Party, all starting at 7pm. Your donation supports the after-school mentoring and leadership programs.
Prom King or Queen Ticket – $1000 – VIP Pre-Reception, Drinks, Dinner and After Party, all starting at 6pm. Your donation sponsors the summer program for one girl.
Valedictorian Ticket Package – $5000 – 4 Tickets with access to all events. Package includes a program listing and a summertime private Planetarium show at the LESGC's East Village Planetarium. Your donation sponsors STEM programs for 10 girls.
After Party Pep Squad Ticket – $150 – After Party Ticket for the late night crowd. Dessert & Dancing starting at 9pm. Your donations sponsor field trips and art classes.
---
Since 1996, The Lower Eastside Girls Club has provided innovative, community-based programs and services for girls and young women.
The mission of the Girls Club is to break the cycle of local poverty by training the next generation of ethical, entrepreneurial and environmental leaders.
You can find them at their state-of-the-art Center for Community on Avenue D, where they are: "Opening Doors, Empowering Women, Building Community, Girl by Girl"
or visit their website at http://www.girlsclub.org/