School Lunch Made Easy – Freeli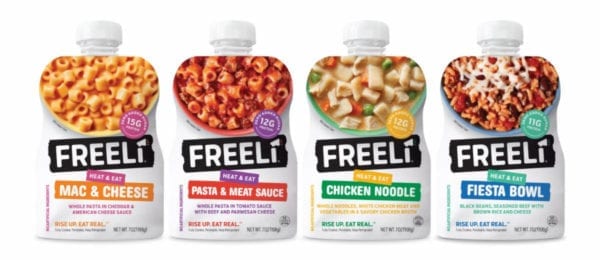 Parents packing lunches, juggling home-schooling and a job, or suffering from "COVID Cooking Fatigue" are turning to Freeli Foods. So are college students!
Back-to-school is more confusing than ever, from pre-K to college. With Freeli Foods, back-to-school meals don't need to be difficult. Freeli is the first company to develop a unique heat and eat, all-natural refrigerated meal in a pouch that is high in protein, contains no added sugar, and has no artificial ingredients. Freeli heats in a microwave in 45 seconds and can be eaten out of the pouch, in a bowl, or you can cut off the top and dig in with a spoon. Children at appropriate ages, can even make for themselves. They are the perfect recipe for when you just can't cook another meal, are making lunch, packing lunch or sending a care package to your favorite grad or undergrad. Freeli is available in four family favorite flavors: Mac & Cheese, Pasta & Meat Sauce, Chicken Noodle, and Burrito Bowl.
Since March of 2020, sales of Freeli, packaged in grab-and-go pouches, are up more than 50%. When stay at home measures were put into place, Freeli Foods quickly pivoted to make their meals available online. With free shipping, each meal is less than $4.
As colleges return, student complaints about the meals they are receiving are going viral. Schools are struggling with how to operate during a pandemic and feeding students, especially when quarantined, is an overwhelming task. Freeli is perfect to have on hand.
"Freeli is on a mission to make healthy 'fast' food the norm and not the exception. With obesity and diabetes on the rise, it is time families have a better for you option that doesn't require hours of cooking and cleaning. Freeli is a wholesome, nutritious meal or snack and is not a purée" said Matthew Sade, Founder and CEO. "Just heat the BPA-free pouch and enjoy".
For more information click here