Prospect Park Soiree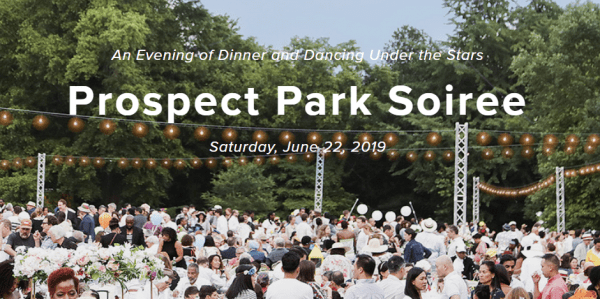 Saturday, June 22 at 5:00 PM
Peninsula in Prospect Park
On Saturday, June 22, 2019, attend the most celebrated party of the year! We provide the entertainment and breathtaking setting, while you gather with thousands of friends—new and old—to enjoy an evening under the stars in Prospect Park.
Wear your most festive attire, prepare a delicious feast, bring your favorite bottle of wine, and dine and dance under the stars in one of Prospect Park's most scenic locations, the Peninsula. Show off your creativity with a show-stopping topper—a fabulous hat or headpiece of your choosing—as well as table décor that celebrates the beautiful surroundings, and raise your glass in a toast to Brooklyn's Backyard.
Proceeds support Prospect Park Alliance, the non-profit organization that sustains, restores and advances Prospect Park for the benefit of the diverse communities that call Brooklyn home.
At this year's Soiree, we are excited to introduce the first Soiree Style & Entertaining Awards presented by City Point. The most creative tables based on food, table decor, park inspiration and style will win a gift certificate to one of the City Point stores! Just upload your pics to social and share with #ProspectParkSoiree @citypointbklyn.
This year, Prospect Park Alliance welcomes two fabulous musical acts to get the crowd on its feet. The night kicks off with a live set of the retro 60's flavored soul stylings of Ernest Ernie & The Sincerities. Post-dinner, enjoy a DJ dance party with DJ Cosmo Baker, a Soiree favorite who has played alongside Drake, Jay-Z, Frank Ocean, The Roots and Erykah Badu.
For more information click here