PhytoLife Balance – Theralogix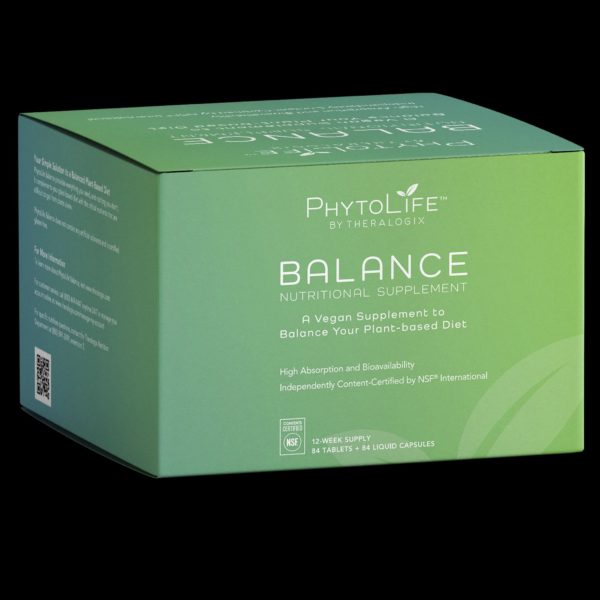 Theralogix Nutritional Science, a leading expert and considered the gold standard for evidence-based nutritional supplements, is pleased to announce the release of PhytoLife™ Balance, their high-quality, plant-based solution to address the possible nutritional gaps for people following a plant-based diet. PhytoLife Balance is the first and only supplement formulated for a plant-based diet certified by NSF International.
If you follow a plant-based diet, PhytoLife Balance is the easiest way to ensure you're getting all the essential nutrients you need. PhytoLife Balance delivers the right balance of 10 essential nutrients that can be difficult to get from plants alone:
· Vitashine vitamin D3 (from lichen)
· Vitamin B12
· Iodine
· Vitamin K2
· Chelated Minerals (Calcium, Magnesium, Iron, and Zinc)
· DHA and EPA Omega-3s
And in case you're wondering what these nutrients do for your body, they support the health and proper function of your brain, eyes, heart, immune system, and even your joints.*
PhytoLife Balance's unique formulation stands out against its competition. These vegan-sourced nutrients are delivered to your body in a balanced, easy-to-absorb format. It is formulated by physicians to create a safe, efficacious, high-quality supplement that both customers and their doctors can feel good about. PhytoLife Balance is also independently tested and certified by NSF International. Simply put, this certification assures you that PhytoLife Balance contains only exactly what is listed on the label – nothing more, nothing less.
You can get Phytolife Balance from Amazon or Theralogix.com. You may also follow Theralogix on Facebook, Instagram, and YouTube for more information,
For more information click here