Paint the Town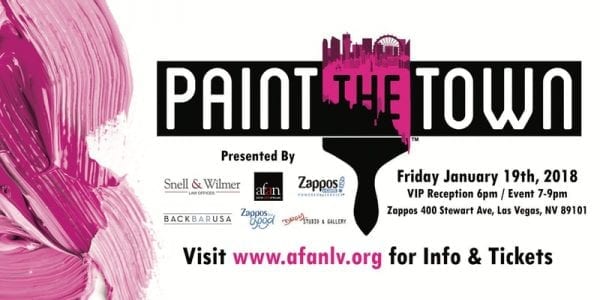 Friday, January 19 at 6:00 PM
Zappos, 400 Stewart Avenue, Las Vegas
Always an evening to remember, Paint the Town is an annual one evening only "pop up" fine art exhibit where philanthropists, artists, and art lovers converge to celebrate fine art and give back to their community.
Guests are invited to bid on the artists' curated pieces with a very generous portion of the proceeds being donated to Aid for AIDS of Nevada (AFAN). Paint the Town was founded on the idea that artists and charity alike can benefit from the creations that artists so often provide to charitable events benefitting our community. By donating the portion of the sale proceeds normally earned by a gallery to AFAN, Paint the Town creates a win-win exhibit for both artist and AFAN.
Early ticket price is $25.00.
Prices go up to $30.00 at the door.
VIP Tickets are $50.00. VIP guests enjoy the VIP reception (6:00 – 7:00); an intimate meeting and champagne toast with the artists, and first chance to "buy it now."
All Ticket price is applied toward the purchase of art with a value over $250.
Back bar USA will be providing complimentary beer, wine, and a specialty cocktail
Chronic Tacos will be on site serving their authentic Mexican cuisine.
For more information about Paint the Town or if you are an artist interested in exhibiting, please contact:
Michael Stein
Attorney at Law and Patron of the Arts
T: 702-521-5792
E-mail: lasvegaslawyer@yahoo.com
For more information about AFAN please contact:
Garrett Pattiani | Director of Events
1120 Almond Tree Lane, Las Vegas, NV 89104
T: 702.383.8095 | F: 702.366.1609
E-mail: garrett@afanlv.org | www.afanlv.org
For more information click here