Nickel & Dime Ops to Release Highly Anticipated Album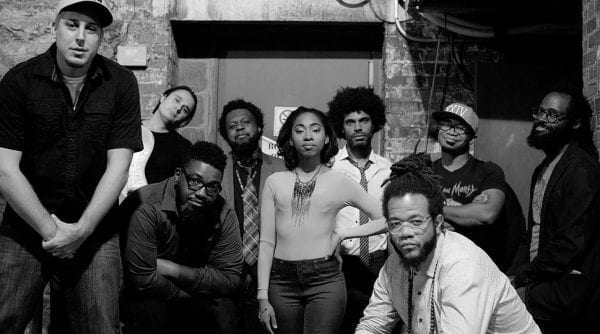 Monday, April 23
Nickel and
Dime Ops, a jazz and hip hop fusion band will be releasing
their highly anticipated 13 track musical and lyrical
masterpiece entitled 'Resuscitation Music' April 23,
2018. The album features several guest vocalists including
two-time 2018 Grammy nominated, Jean Baylor. Nickel and
Dime Ops will be performing live at their album release
party May 4, 2018 at SOB's night club in New York City.
The conscious nine-piece band began in
2010 to push the boundaries of creativity both musically and
lyrically. For 7 years and running, Nickel and Dime Ops has
held their weekly Thursday night residency at the world
renowned Smoke Jazz Club. Over the past seven years, Nickel
and Dime Ops has performed over 400 shows in New York and
music festivals throughout the country. Members of the group
have performed with icons such as President Barack Obama,
Stevie Wonder, Alicia Keys, The Roots, Sting, Amy Winehouse,
Aretha Franklin, and many more.
Here's what some have to say about
Nickel and Dime Ops:
"…Nickel and Dime Operation can
change the face of music. Judging from the crowd dancing in
the aisles on Thursday night, (Nickel) might be onto
something." – New York Daily News
"The dynamic group of insanely talented
musicians brings together jazz and hip-hop, combining the
two for an unforgettable performance. Yes, an unlikely
fusion you might think, but if you love jazz and hip-hop,
you are sure to love these guys." – FlowersInAGun.com
Check out Nickel and Dime Ops
Resuscitation Music Trailer : https://www.youtube.com/watch?v=_Lo49JIkzaQ
The new Nickel and Dime Ops album,
"Resuscitation Music," is available for pre-order
For more information click here