New Releases in Children's Books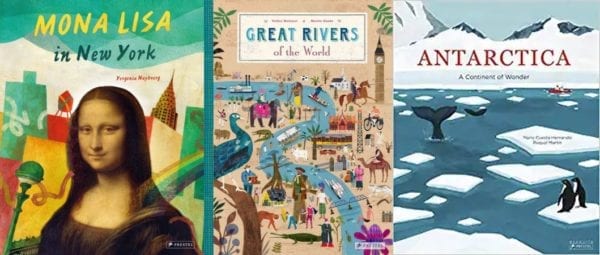 In Mona Lisa in New York by Yevgenia Nayberg (3/9/21; ISBN: 978-3791374451; Hardcover $14.95; Ages 4-8; 32 pages), a love letter to New York City, Mona Lisa is a tourist who experiences the city for the first time, and finds art, love, and inspiration in unexpected places.
Mona Lisa is taking a trip to New York from the Louvre. Yes, that Mona Lisa. The one with the knowing smile. After hanging in the museum for a while she decides to explore the city. She slips out of her painting and meets Tag, a street art figure. He takes her on an adventure from the Bronx to the Brooklyn Bridge and it turns out Mona Lisa doesn't know as much as she thought. In this beautiful and charming book, artist Yevgenia Nayberg, an immigrant to New York herself, shows young readers the city she has fallen in love with. Cleverly portraying da Vinci's iconic subject as a world-weary, know-it-all, Nayberg takes readers on a tour of New York. Mona Lisa and Tag eat pizza in the Bronx, listen to jazz in Harlem, dance to salsa music on the High Line, and swim at Brighton Beach. As Mona Lisa says goodbye to her new friend, she–and the readers–come away with a profound appreciation of the city and its wonders.
Spend hours navigating the world's great rivers with Great Rivers of the World by Volker Mehnert and illustrated by Martin Haake (3/23/21; ISBN: 978-3791374703; Hardcover $19.95; Ages 8-12; 40 pages), a vibrant, fact-filled book for kids that blends geography, history, and culture.
Where in the Rhein does the Nibelung Treasure lie? What river helps mark the prime meridian? Why do people make pilgrimages to the Indian city of Benares? Why is the Mekong called the "Nine Dragon" river in Vietnam? How does the Mississippi divide and unite the United States? These and hundreds of other facts are explored in this wonderfully illustrated atlas of the world's great rivers. Each spread in this book offers a colorful map packed with drawings, figures, and facts. Cities that border the rivers are highlighted, as are distinct flora and fauna, significant natural and human-made features, and fascinating historical details. A "biography" of each river describes where it flows, and its importance to the communities it passes through. Special attention is given to the ecological health of the rivers–those that are thriving and those in danger of losing their valuable habitats. Along the way, young readers will come to understand the enormous impact that rivers have on our lives, while learning valuable information in a way that will spark their curiosity and imagination.
Join scientists on an unforgettable journey to Antarctica in illustrated children's book Antarctica: A Continent of Wonder by Mario Cuesta Hernando and illustrated by Raquel Martín (4/20/21; ISBN: 978-3791374567; Hardcover $19.95; Ages 5-8; 48 pages).
Come aboard the Polar Star and accompany its crew on their half-year stay in Antarctica. Through full-page illustrations, children will experience the work and life of these explorers and scientists as they study penguins, whales, and seals, measure the depth of the ice, chart wind speeds of up to 186 mph (300km/h), examine old volcanoes, and withstand some of the lowest temperatures ever recorded. Kids will also learn about Roald Amundsen and Robert Falcon Scott, the legendary explorers who first set foot on Antarctica. Equal parts thrilling adventure and in-depth exploration, this book is an unforgettable illustrated expedition to Antarctica that is sure to satisfy the boldest bedtime traveler.